Branding is a crucial aspect of any food business. How you position yourself and your consistency when creating any kind of content can help you establish yourself among your customers and boost your visibility.

Oftentimes, many food brands end up not using the right brand colours or not following their brand personality, making it hard to build their reputation as a fun, informative or healthy brand. What's worse, this makes it hard to be memorable.
Did the last pinch you a little?
To put things in perspective, let's begin defining the elements that make food branding what it is—
Brand colors: These are the colors associated with the brand which define it and make it memorable visually.
Brand personality: Brand personality is a set of human characteristics that are attributed to a brand name, making it more relatable for their audience.
Brand imagery: Brand imagery is the aesthetic appearance of a brand's core messaging.
15 Food Brands and Food Branding Works
1. McDonald's
McDonald's is an American fast-food company, founded in 1940. It's popular across the globe and has been able to stand out with its striking branding and well-loved "Happy Meals". The one thing that they always ensure is a part of their content is their logo (use an online logo maker) and its primary colors.
Brand personality:
McDonald's is family-oriented, friendly, cheerful, and confident.
Brand colors:
McDonald's sticks to its brand colours— red and yellow, no matter where they're sharing content. It could be online across different social media posts or across the billboards you cross on highways.
Brand imagery:
Their brand imagery is simple and remarkable. The golden arches and red background are instantly recognizable because there's no other distracting element around them.
When designing for your brand content, you too can stick to your brand colours easily. You don't have to keep using the colour picker to 'pick the right shade'. Using smart design tools like Mason can help you stay on-brand always.
Want to see how we make sure that all your content remains close to your branding? Get started with Mason now!
2. Chobani
Chobani is an American food company specializing in strained yoghurt. Their customers are devoted to their products thanks to its natural ingredients and endless health benefits.
Brand personality:
The brand's personality is playful and informative and they've been able to maintain this balance perfectly across all their content.
Brand colors:
Chobani uses white in all its packaging as well as its creatives, along with a dash of dark green.
Brand imagery:
Chobani uses different design styles to bring out their playful personality. But what you can see consistent in their posts are bright colors and fonts that are close to their actual product packaging. This helps them tie their products online and offline, creating a higher brand recall.
Picking colours that are close or similar to your product pictures can be tricky. You go too bright and you risk the product getting overshadowed. If you go too dull, you risk the entire image looking too boring. With design tools like Mason, you don't have to worry so much. It picks up complementing colours and auto-applies them to your posts.
3. Betty Crocker
Betty Crocker is a brand famous for its ready-to-make cake and pancake mixes as well as the recipes and cooking tips they provide to their customers. For Betty Crocker, it's crucial to stick to this straightforward and information-heavy brand that they've carved out over the years. And they do not disappoint!
Here's what their yummy Instagram feed looks like: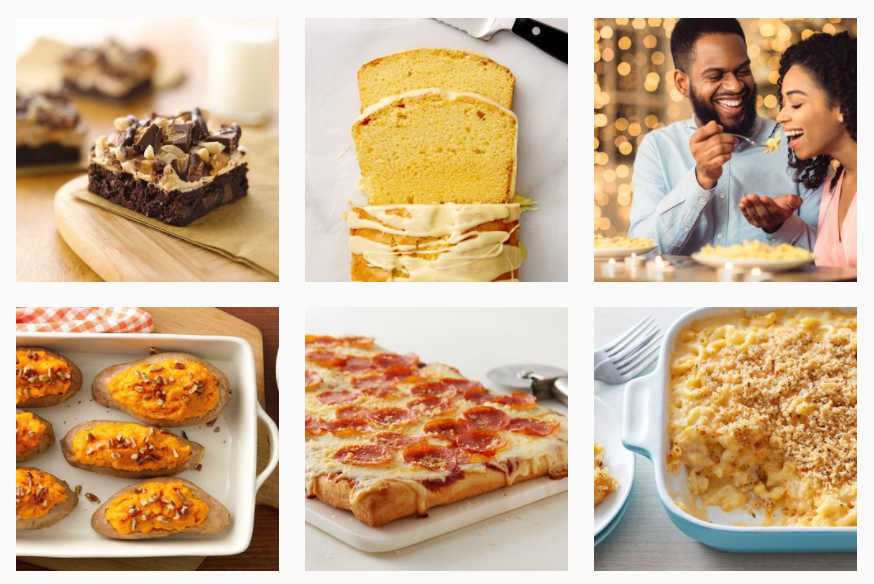 Brand personality:
The brand is known to be helpful and informative, providing their audience with recipes, cookbooks, and healthy packaged food products.
Brand colors:
Betty Crocker has a signature red across all its creatives, from social media to its website to its packaging.
Brand imagery:
Be it the thumbnail of their videos or static image posts, their logo and brand colours remain consistent and clear. For text posts, they always use their signature font for high recall and of course, clarity.
If you're someone who wants to use different fonts across their posts and still stick to the core branding, design tools like Mason come with a vast font-pair library. It makes it easier for you to choose fonts that are readable and perfectly complementary to one another.
Give it a shot maybe? Get early access to Mason now!
4. Toyo Kombucha
Toyo Kombucha is a kombucha (beverage) brand based in India. They are known to use all-natural ingredients, manufacturing products that prioritize health. The brand is young, but caters to a wide demographic of customers. So they need to be fun, yet relatable and that's what they do with their content.
Brand personality:
The brand promises a healthy lifestyle through its products.
Brand colors:
The brand uses green and purple as its brand colors.
Brand imagery:
The brand stays on-brand with its logo within every creative they put out. Be it an illustration-heavy video, product image or a GIF, the logo remains consistent. They also focus a lot on keeping their product at the forefront. No matter what the background is, their bottles always shine out.
Seeing their bottles in different setups and scenarios so many times, obviously works in favour of improving the brand recall.
5. Starbucks
Starbucks is an American multinational chain of coffeehouses and roastery reserves headquartered in Seattle, Washington. They are the world's largest coffeehouse chain, spanning continents and need no introductions. But still their social content remains true to the branding.
Brand personality:
Starbucks is outgoing, youthful, personable, and friendly.
Brand colors:
Starbucks has been able to do this across a variety of posts using their brand colour - green.
Brand imagery:
The brand shares pictures of their team at work, testimonials as text posts, and even illustrations, keeping the green prominent across its posts.
When creating your designs for social media, especially a platform like Instagram, you need to be able to see how these designs pair with past posts. Especially if you're trying to use the same colours across them all.
Too much of the same colour can be a little jarring. But planned with complementary shades, it can be as beautiful as Startbucks!
To visualize your social media graphics and images better, you can use a Preview app as well. It helps maintain a consistent theme.
6. Cheerios
Cheerios is a brand of cereal manufactured by General Mills in the USA, consisting of pulverized oats in the shape of a solid torus. If you thought that sounded all too boring, take a look at their Instagram feed - because that's exactly the opposite of it. Since they want to make their brand receptive amongst young customers, their packaging to social posts are all happy and bright!
Brand personality:
There's no doubt that Cheerios is happiness personified, known for sharing positive energy.
Brand colors:
Cheerios keeps its main color, yellow, across all its creatives while using other colors along with it to convey their happy and cheerful personality.
Brand imagery:
Cheerios has been able to experiment and find the right social media strategy for their brand— tapping into user-generated content.
But at the same time, they make sure that when those posts go up on their feed, they're on-brand.

Be it enhancing the colours of their products, adding their logos to the posts or simply adding a bit of text, they make sure their images 'speak' to you.
If you plan on using user generated content on your social profiles, encourage your customers to follow simple rules. Something like 'keeping the product in-focus' or in the picture, is an easy-to-follow step.
7. Ritz Crackers
Ritz Crackers is a brand of snack crackers. They sell oven-baked chips with a crispy, thin shape and an irresistible crunch. Ritz has a cheeky personality and has been able to stay innovative with their social media content.
Brand personality:
The brand is enriches your simple snack time.
Brand colors:
Ritz always sticks to its brand colours of red and blue, even when sharing PR content, like a magazine article featuring a wave of praise about their new product.
Brand imagery:
Their fonts are fun too - just as the one used on their product packaging.
Now if you notice all too closely, you'll also see the brand sneakily adding their crackers to every post in one way or the other. Take the third post in the top row as an example and you'll know what we mean.
8. Keebler
Keebler is an American cookie brand and former cracker manufacturer that was founded in 1853. The brand associates itself with positive brand attributes - "uncommonly good quality, caring and fun". Yes, these cookies are for everyone!
Brand personality:
Keebler keeps its social presence bright and fun, with a consistent copy style across different touchpoints, from social media to packaging. Even their social media images hold onto the vibrance they stand for.
Brand colors:
To maintain their fun persona, they stick with their signature yellow brand color.
Brand imagery:
Their brand shows its products behinds colored backgrounds.
It's crucial to document your brand personality and your reasoning behind it. This can help you develop content and design that is more in-line with who you are as a brand, ensuring fewer deviations from your style. Lesser the deviations, higher the brand recall!
If you're just starting out and putting together a brand assets kit, we recommend adding design tools like Mason to your toolbox. Get early access to Mason here.
9. Lays
Lay's is a brand of potato chip that is globally adored. With 75 years of expertise in the industry, Lay's has been able to make itself a household name. Think picnics, parties or even midnight munching and theirs is one snack that will always come into our minds.
Brand personality:
As a global product, Lay's is all about celebrations and good times.
Brand colors:
Lay's has 2 distinct colors as per its logo— red and yellow
Brand imagery:
Lay's has a very distinct packaging that is standardized across different flavours. Even when innovating with their packaging, they maintain the standard details of the packaging like the logo, font and the colour of the packaging (for each flavour). They use this packaging within their social media posts to stay familiar for customers.
They too follow the approach of keeping their products in-focus or at least in the picture they share.
10. Kit Kat
Kit Kat is a chocolate-covered wafer bar confection that first launched in the UK in 1935.
Brand personality:
They've been able to make their brand synonymous with "taking a break". Scrolling through their Instagram feed is nothing short of taking a break either!
Brand colors:
Everyone is familiar with Kit Kat's signature red color
Brand imagery:
Kit Kat surrounds a large number of its social media posts around its theme of 'Have a Break, Have a Kit Kat". They've been able to find interesting and innovative ways of spreading this message without being repetitive and boring.
But as a ground rule, what they do follow, is staying consistent to their brand colours. They use a mix of posts to keep their feed looking interesting but if you notice the fonts used and image composition, you'll see how closely they move around their core branding guidelines.
11. Pasta Rummo
Pasta Rummo is an age-old pasta brand that was started by Antonio Rummo in 1846. Now, the brand is well-known for its quality and tradition, staying true to its roots.
Brand personality:
Their brand stands for simplicity and so does their content across all social media platforms.
Brand colors:
Their brand colors are red and cream.
Brand imagery:
On social media, Pasta Rummo delivers information around their products to its customers. For instance, when launching a product, the brand was able to create and share posts around the ingredients used in the product, its packaging, and how the product even looks!

The posts are simple, clutter-free and informative. But the brand plays around with its core colours and fonts carefully, keeping in mind that readability shouldn't be compromised at any point.
Font pairing can be tricky. Especially if your logo is text-heavy. To make things simpler, you need a design tool like Mason on your side as it comes with a vast font-pair library. Get early access to Mason here.
12. Vermont Creamery
Vermont Creamery is a creamery and artisanal cheese and butter-maker in Websterville, Vermont, USA. It was founded in 1984. The brand has been able to stay relevant through these 34 years due to their dedication to the craft of making authentic cheese.
Brand personality:
Vermont Creamery is an embodiment of honest and authentic, like a neighbour showing you around.
Brand colors:
The brand uses their signature cream with pops of red, almost like a Christmas theme.
Brand imagery:
The brand shares pictures of how they make their dairy products, how their products are used, as well as the behind the scenes of a day at their creamery.
Their Instagram feed consists of pictures that are edited with similar filters and tones so that they look consistent.
Pro-tip: You can nail your Instagram strategy just by staying mindful about your feed consistency. Planning and previewing your photos within your Instagram is the best way to do this. Get early access to Mason, an all-in-one design toolkit, and preview your Instagram easily.
13. Once Upon a Farm
Once Upon a Farm is an American brand that sells organic cold-pressed snacks for babies, toddlers, and kids. They sell products that have no added preservatives or sugar. What makes them special is their effort to stay transparent about their practices, showing how their product is harvested and made, and their mission to be organic and healthy for their young customers.
Brand personality:
For its customers, Once Upon a Farm is a nurturing and loving figure, almost like a mother who looks out for the wellbeing of kids.
Brand colors:
While red is the brand's main color, Once Upon a Farm uses different colors to depict different flavors.
Brand imagery:
Once Upon a Farm taps into user-generated content, showing their customers using their products. This social proof helps them build their credibility.
Even when sharing UGC, the brand has been able to maintain their photo edits, complete with bright tones and fewer shadows to encapsulate the happy vibes they stand for.
14. Minute Maid
Minute Maid is a product line of beverages that was founded in 1945. They market themselves as a brand perfect for everything from breakfast to soccer games and have successfully established themselves as a fun and healthy brand.
Brand personality:
The brand has a healthy-first approach but uses fun and witty content to showcase this.
Brand colors:
The brand uses black and green for its brand logo. However, on its social media, they use a range of colors for its different flavors.
Brand imagery:
Minute Maid creates these "Pairs Well With" posts on social media for their range of products. This helps them stay witty while showing how great their products are as quick snacks.
Besides these designed posts, they also show their product in action, within a chicken recipe or for a snack break.

Notice how their products always remain in-focus and the text added on the images is always bold, clear and non-distracting.
15. Blue Diamond
Blue Diamond is an almond brand that sells everything almond— from milk to yoghurt to even almond-based snacks. They've been able to stand out despite their niche products with social posts that engage new followers and make their product seem more than just almonds.
Brand personality:
The brand positions itself as fun yet health-conscious.
Brand colors:
The brand is defined by its blue and orange brand colors.
Brand imagery:
The brand uses bold colours and interactive and infographic-like content to engage their social media audience.
Designing such interactive content is easy if you have templates in place. This way, you can just change the text, colour, and the image used within the poster to come up with new content in minutes.
Mason is an all-in-one design toolkit that helps you simplify your design process and get similar images ready in no time. The tool comes with ready-to-use and editable templates for each social platform. Get started with Mason today!
Set up a consistent branding for your food business with Mason
If you had been struggling to get ideas for your social content, we hope this list helped you draw inspiration from some of the top food brands across the globe.
When setting up your branding, you need to document your guidelines and processes to help anyone referencing your branding to easily replicate your brand personality and style within any content piece they are creating. This way, you can ensure fewer mistakes and stay on-brand constantly.
Remember…
Design is the silent ambassador of your brand.
- Paul Rand
Another way to stay on-brand is with a design toolkit that helps you find your brand colours, fonts, styles, and templates in one place. With such an all-in-one toolkit, you never have to worry about using the wrong colour code or using the wrong sized text for your design.
Mason is built to help you stay on-brand. Within this design toolkit, you can save all your brand guidelines so that your team can pick your brand colours, choose complementary colours automatically, and even resize designs as per platforms you're making use of.
Get early access to Mason to stay on-brand while spending less time designing your brand assets.