Think "influencer marketing", and homegrown-models wearing on-trend ensembles come to mind. Usually in the context of Instagram. The visual platform has led the way in helping consumers discover top apparel brands in the fashion industry online. Tiktok and Facebook aren't far behind either.
The key to successfully leveraging social media for your apparel brand is to think of it as an Anywhere eCommerce channel, as Shopify puts it. Anywhere eCommerce is the concept of offering consumers the chance to shop online -anywhere! Whichever channel or platform they spend time in the day, that's where you offer them a direct path to purchase.
And hence, the ever-growing importance of social channels - people of all ages are spending more and more time today open to niche social platforms. New channels and new types of content emerge every other day, too. A good content plan as part of your social media marketing becomes imperative for success.
Let's jump right into some of our top content strategy for sprucing up your social feed!
How to Create Content Ideas for Fashion Brands
1. How-to Instagram Live series
"How does she always look so good?" "How does he pull such outfits off?"
A lot of your audience will want to be able to style themselves just like your product models or the influencers you tie up with, but they probably don't know how to. Show them how they can look fabulous with a how-to Instagram Live series on styling, using a mix of basic items they'll already own and some statement must-have pieces from your brand. Subtle brand placement is key to this Instagram post idea - it will be expected, but your audience should still come away feeling like you genuinely conducted the series to help them get a little closer to looking like a fashionista.
2. Product Insights
"If you ain't good for the world, you ain't good for me."
A lot of millennials and most of Gen Z are extremely conscious about the material they wear and the community/environmental impact that your brand may have. Sharing insights about your product material and processes is a great way to connect positively with a wider section of the audience - even more so if you give back to the community or environment in some way. Consider, for example, the shoe brand Toms doesn't even bother saying they sell comfortable, functional shoes - they say they're in the business to improve lives.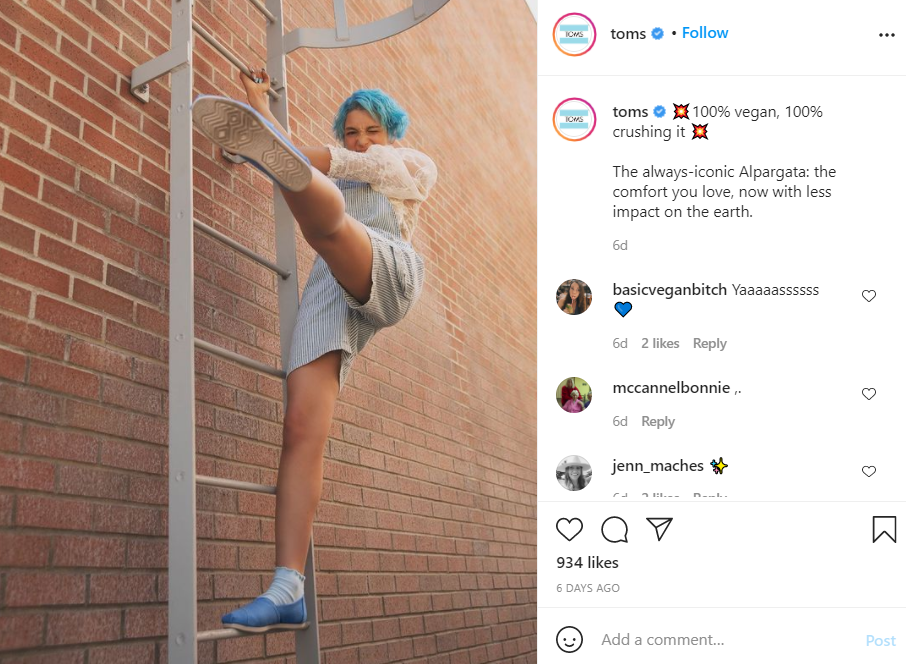 3. Flatlays for accessories
"Ooh, I think I'd look good in that ensemble."
Flatlays are one of the most undervalued social media post ideas of this decade. Accessorizing an outfit is an extremely personal endeavor. Think about it: any two men can pick out the same suit, but they're likely to have quite different opinions on whether to wear a bowtie or regular tie, pocket square, or nothing at all. The same goes for what a woman decides to pair with her dress - it could be a dress-boots-necklace combination or a dress-strappy heels-earrings combination, with the exact same dress. The best thing for you to do then is to provide inspiration with flat lays. These extremely visual posts tease the imagination of your audience and help them imagine themselves in that clothing & accessories - or how they would wear it just a little differently. Their content marketing strategy is top-notch.
4. Out-and-about visuals
"I could wear that skirt the next time I go on a picnic too."
In the apparel industry it's very important that your brand is relatable for your target audience. When you do a product shoot, do it in a setting that's contextual for your brand - a catalog-style shoot. Think about clothing brands- how Free People always shows their models in a bohemian setting, while sister brand Urban Outfitters is a tad more edge and culturally assertive. Social media is for creating the experience of how your potential customers will feel wearing your products...so leave the white background images for the product listing page.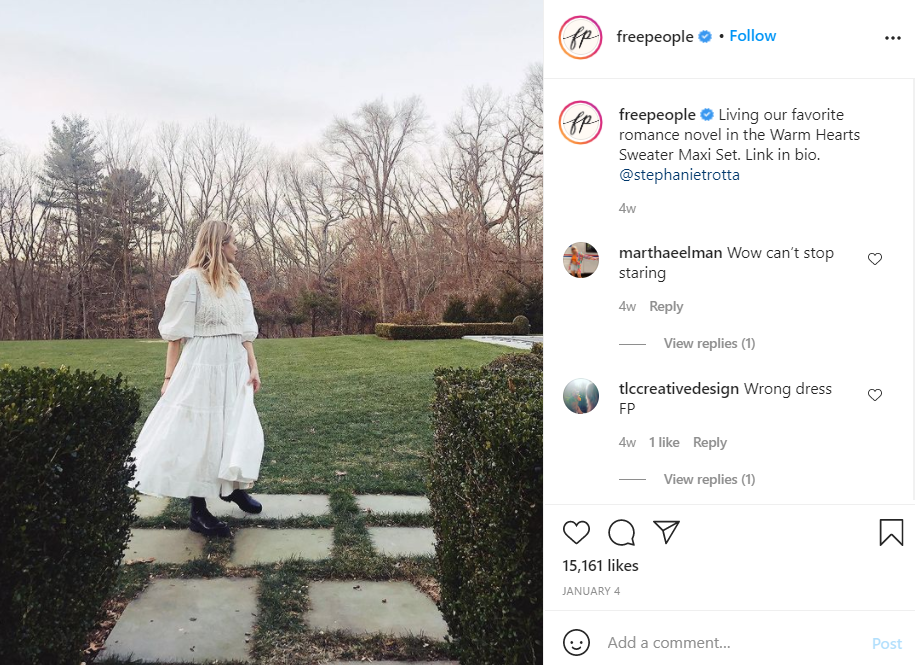 5. User-Generated Campaigning
"I love how he styled that sweater...I'm going to try that."
User-Generated Content or UGC is one of the most effective social post ideas for higher engagement and higher sales. Request your customers to share an image in your product using a particular hashtag, and then repost their post. Showing customers actually using and enjoying your clothing, accessories or shoes goes a long long way in getting more customers to check out your line. Bonus points if you can use influencers to promote the campaign and hence get maximum participation from your customers over a short period of time, which you can keep using later. BikBok does this with style.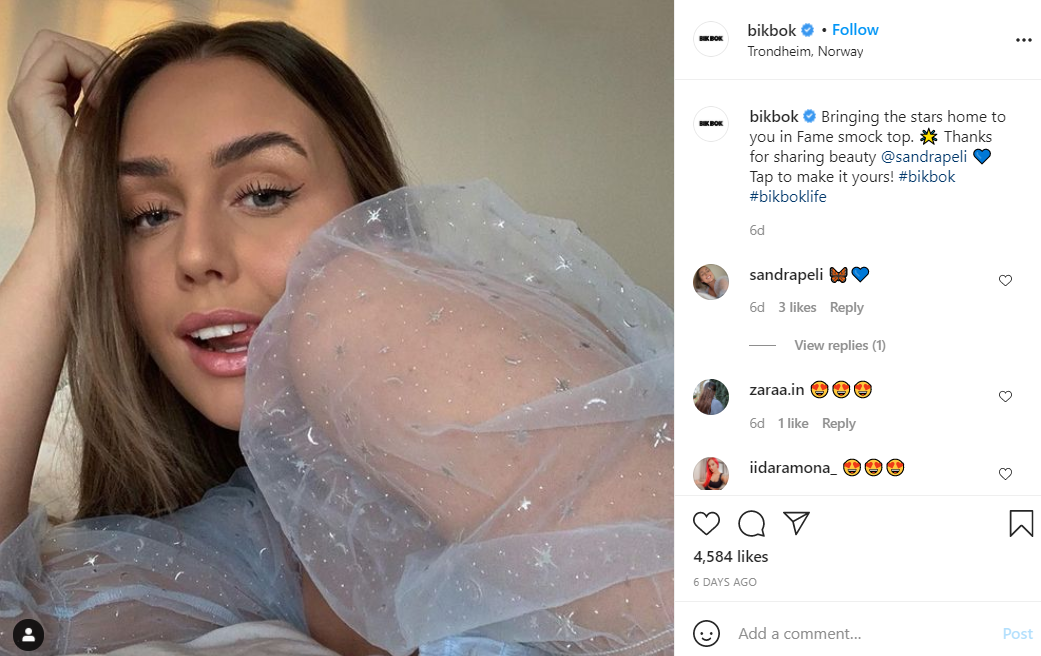 6. Personalized self-advocacy
"She looks so good in that dress, I want it too."
When you're a boutique brand, it helps to be a brand ambassador for yourself - the e-commerce version of walking the talk. Make it a point to put together wonderful outfits using your own products and be seen on social media. This will especially help you be more relatable to your target audience, who will in turn want to look like you and hence buy from you. It's a great way to be an influencer for your own brand!
7. Fashion Friday
"Ahh, that's how I could sling that bag." "That's how I can pull off shoulder pads."
In this knowledge economy, fresh inspiration is gold. Run a Fashion Fridays series that dissects a trend and shows your audience how they can get in on it. Whether you have a younger audience or an older one, they'll be glad for the expert help.
Tip: Make sure the trends you pick do relate in some way to your brand- and not just drive traffic that can't even relate to what you stand for.
8. WFHomespiration
"That looks comfortable and cool."
Most people are working from home and expect to be doing so for the coming few months. Most brands have already launched loungewear and pajamas to cash in on the moment. If you haven't yet, now's a good time to jump on the bandwagon and pick your comfiest products to provide some serious inspiration on looking good at home.
9. Product stock updates
"Oh good, I'd missed this earlier"
A great idea for products that were out of stock and are back in! Even if you think very few people are waiting with their chin in their hands for a particular piece of apparel to be back in stock, product stock updates are a great idea simply because they help you reintroduce SKUs to people who'd missed them before.
10. Coming soon updates
"Ooh, this looks interesting."
Launching a new collection? Everyone on social media loves a good tease. Give a glimpse into the new collection launching soon and have them coming back to your profile, again and again, waiting for it to launch. We know we do it! Image courtesy: Reformation (you'll find us on their website waiting for new jeans to launch).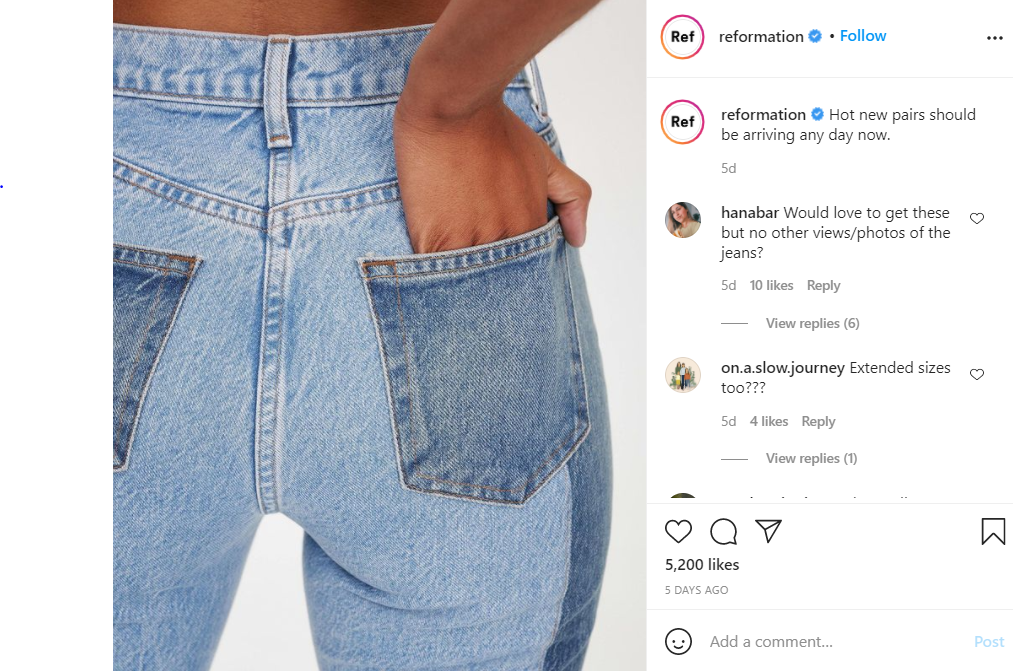 11. Our Favourites
"That must be good, I should get that."
When customers don't know what's trendy and what's hot, they love to hear from the style-makers - or at least the style keepers! Who better than you and your team to let customers know what's working well, with an "our favorites" series. Somewhat similar to the American Rag 'staff pick of the week' series pictured below: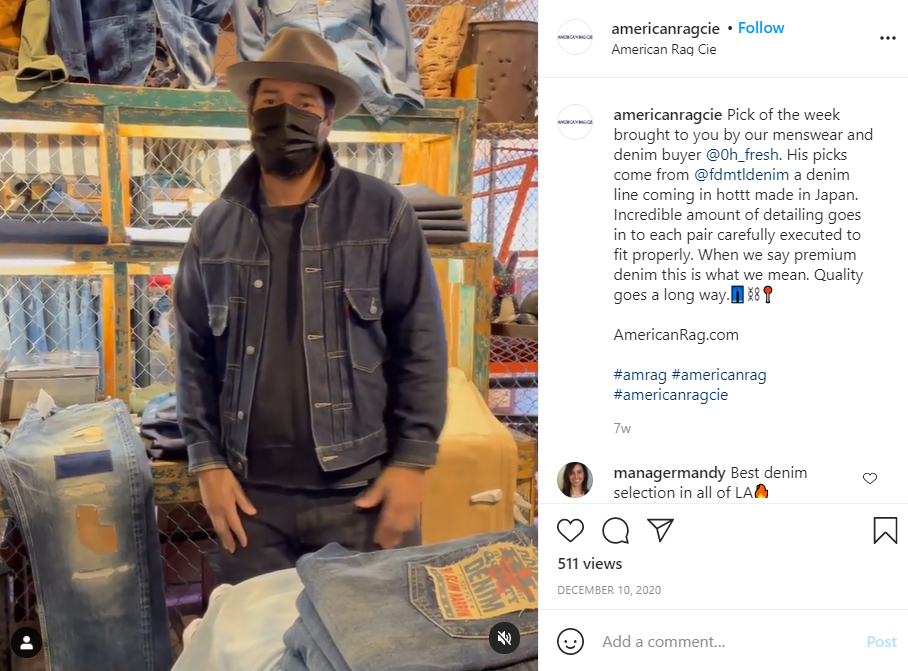 12. #FunWithFashion
"HAH, I can bring back that skirt I haven't worn in 10 years"
Everyone's so busy following trends so they look like they're in the know - even trend creators are looking for the next best thing. What if everyone could be a trend creator? Get your followers to create their own trend and post a picture of it - start by doing it yourself, a couple of times a week, and make it a running series! The wackier the better, if only to have #FunWithFashion.
13. Breaking it down
"Oh, who knew! Well, that's interesting."
What is it that you stock in your apparel store? Clothes, shoes, or accessories? Or all of it? Chances are, your customers don't know too much of the back-story behind what you put out there or what fashion designers work on. Get talking about some of the details - what really is a grosgrain ribbon, and where did fringes originate from? How are accordion pleats really made and what's the best way to maintain them? Your customers will be all ears (or all eyes, as the case may be).
14. Make it yours
"Now this is how I could give white T-shirts my personal spin."
In a world where everyone seems to fit into some label and some cohort, fashionistas and aspiring fashionistas just want their own unique style. Give them some inspiration with a few different ways to style basic products and statement products (from your store, of course).
15. Organization nation
"Oh god yes, I need this."
Yes, you're an apparel store, but why not also help your customers keep their apparel neat and happy? Give your followers some content creation tips on keeping their closets neat and organized - sorted by color, use, and type, perhaps. Although this would need some effort as far as social media post ideas go, we'd recommend a collaboration with a professional organizer (they're all the rage right now - we're looking at you, Get Organized from Netflix) - it would make for a great tentpole event to promote and boost followers. It's a great digital marketing strategy too.