For decades, Black Friday has been the busiest shopping day of the year... and as more people opted to shop online, cyber Monday soon emerged as a way to conclude the thanksgiving-black Friday retail shopping weekend.
The days between Black Friday and Cyber Monday (BFCM) are arguably the four most important days of the whole year for most retailers. Because of this make-or-break dynamic, the teams in charge of implementing BFCM must put their best foot forward.
Why Focus on BFCM eCommerce Sales Different in 2021, after all?
It will be the second BFCM since the COVID-19 pandemic. Analysts are predicting that 2021 will be another record-breaking year. Consumers' mindsets and purchasing behavior were altered by the pandemic last year. As a result, the eCommerce industry grew by roughly five years.
Data points from Shopify show how big BFCM 2020 was for Shopify merchants! Total BFCM sales globally amounted to $5.1 billion. 50% more consumers bought from Shopify merchants compared to 2019. The average order value globally was $89.20
So, how can you make your eCommerce store easier to run? A more accessible and efficient store means greater convenience for your customers to buy from you.
You will read below what store automation is, why we need it eCommerce business, the top 3 Shopify apps for BFCM 2021 that you can use to automate your eCommerce business.
What is eCommerce store automation?
Marketing automation allows you to take control of your marketing strategy and your time without having to manage it all manually.
With some simple setup and occasional tweaking and monitoring, marketing automation tools can bring back more returning customers and increase store traffic. Ecommerce automation is the secret recipe for all the Shopify store successes.
Why automate your eCommerce business this BFCM 2021?
By automating your marketing, your team will be able to focus on chasing more essential things better. How much-automated marketing you decide to implement depends on your business needs and preferences.
Even the last few hours of BFCM 2021 are crucial; there will still be shoppers lurking around like vultures. It's your job to make the most of it!
Implement eCommerce automation and remove all the manual hours you spend on repetitive tasks. Some of the frequently used and high conversion/data showing automation items are -  a quick but engaging landing page, improving product pages, quickly adding social proof to convince visitors, and using FOMO to advantage.
Need #1 Automated Responses for FAQs in BFCM 2021
Many customer support questions are variations on the same ones. Most of them have similar answers.
So, stop your support team from pulling their hair out answering the same questions over and over again. Instead, prepare pre-written responses for the expected BFCM queries. Something that can have a standard template and goes like this -
"What is the status of my order?"
"How do I return my order?"
"Can I edit/cancel my order?"
"How do I use this promo code/discount?"
In most cases, your answers to these questions will consist of the same information, such as how to track an order, your return policy, and how to update the order.
Need #2 Customer retention
Irrespective of the platform, customers expect to get their answers quickly, from the website to social media to customer support, regardless of the forum. You need to always be on your feet!
I mean, imagine you're almost ready to check out, and then… a flurry of questions arise. You don't hear from the seller, would you still place the order? Relax, it's not just you.
In fact, the average cart abandonment rate is 69.57 percent, which means seven out of every 10 shoppers won't even complete their transaction! Also, according to Forrester's research, shopping cart abandonment currently causes eCommerce brands to lose a staggering $18 Billion in yearly sales revenue.
Here comes automation -
Let's say you've added a customer to your email list (which is a type of eCommerce automation). You can send a thank you email after they make a purchase. Or, send out birthday emails and offer a discount if they order that day.
So much can be done without actually doing it!
Need #3 Grow overlooked revenue streams
Existing customers and highly engaged customer data. The duplicate contacts but a different approach. Why wait till Black Friday begins? Let's make that announcement and get the hype building for all those exciting products you have in store!
You can also use the highly engaged list to build a priority list (VIP list) for BFCM 2021. These can also be your highly engaged customers and have purchased from your store more than once. This is the list of customers who are likely to buy during the BFCM sale.
Start creating your BFCM VIP list now and see how it directs the flow of purchases by your customers. Here we are again, talking eCommerce automation -
Optimize your pop-up for capturing leads that are specifically interested in BFCM sales. Use VIP emails to build up excitement and buzz about your BFCM offers, making them feel exclusivity and privilege. Use badges as social proof on your products to show what other people are buying.

Below is an example of products with exclusive badges on them. Badges with tags such as "SALE 30% off," "BESTSELLER," "TRENDING NOW," and so much more.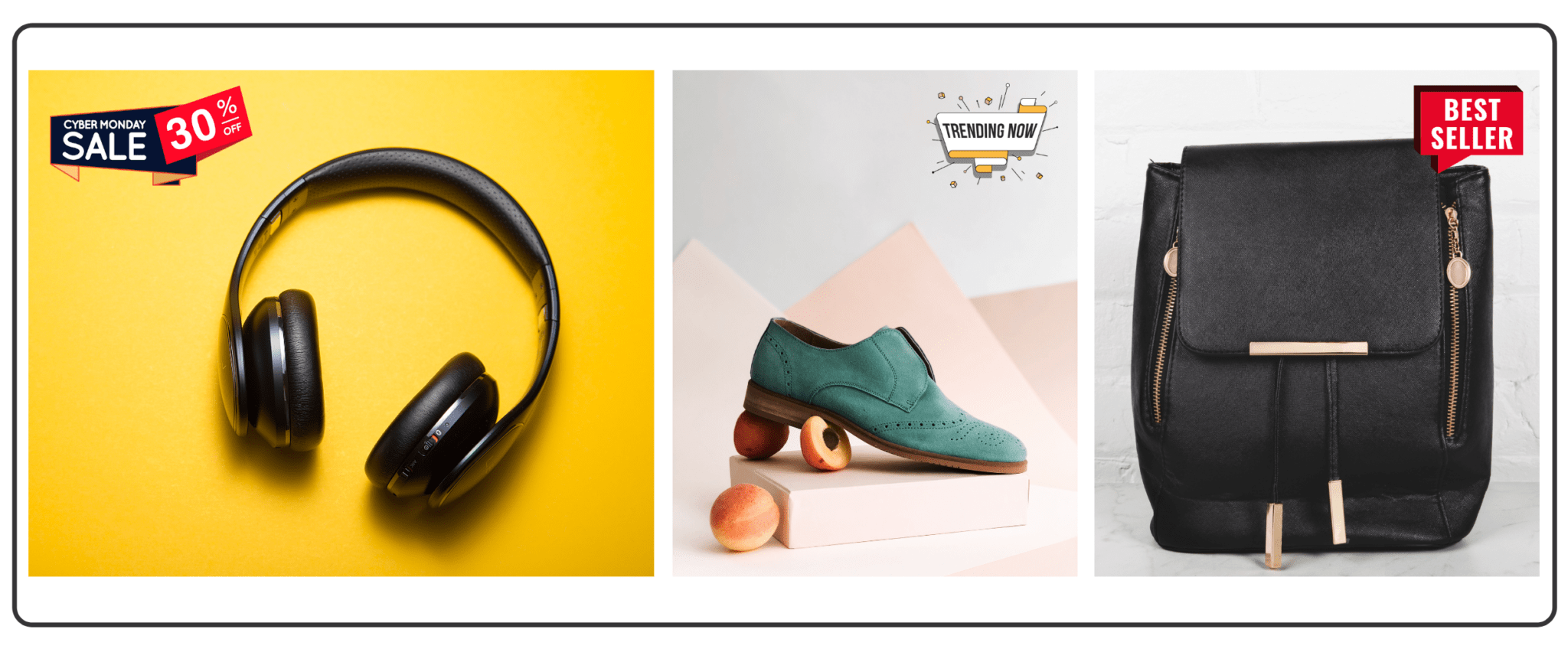 Now, now... you might be thinking, "But um, isn't all of that time-consuming?"
We say, "Nah, read on, we have got some cool Shopify apps to make your life easier."
Here are the top 3 Shopify awarded apps for automation to get you started for BFCM 2021:
ModeMagic
Shoppers pay attention for between 5 and 8 seconds on average. Do you have their attention yet? Product badges, labels & icons displayed on your product help get your customer's attention.
You don't even have to go about editing and updating your product images. Everything can be automated.
ModeMagic helps update product badges and labels automatically across the store based on different triggers.
For example - if the number of items for a particular product is less than 5, then the "A few items left" badge will be updated across all the products.
Customers are reporting a 25% increase in sales with badges & feature cards! Here's one example of showing automated badges on products that is low on stock. The badge says "FEW LEFT." You can easily do it too -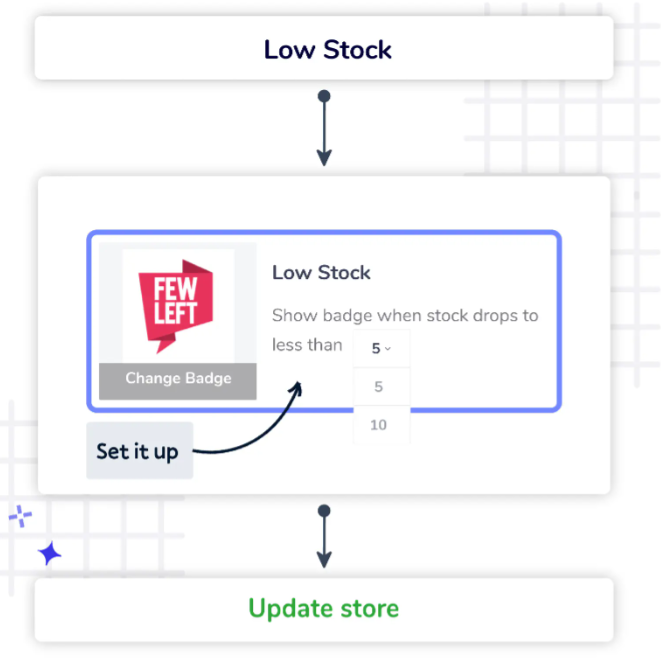 One-click, and you can start here now. There is also 24x7 support to resolve any queries you may have.
2. HypeCart
Here's what you must do next now that you have got your customers hooked on your products and made them buy them.
A customer's checkout experience starts with adding an item to their cart. Why not leverage each step of the customer journey to get the best average order value? That's precisely where HypeCart helps you -
HypeCart displays the items minimally and thoughtfully combined with any upsells, cross-sells, or progress bars you've created. You can customize these offers however you want with many triggers!
Promotions on the thank you page are often overlooked. This page can turn into an order confirmation page with HypeCart. HypeCart's drag and drop builder lets you customize your own thank-you page, and it's both easy and effective!
3. PageFly
All eCommerce store runs on one essential thing - a website. It is that one definite place we cannot afford to look away from! What is your landing page load time?
We even want our e-window shoppers to enjoy when they come to us, don't we? So, here's something to make our lives a tad bit easier - PageFly.
PageFly is a landing page builder app to create sale-boosting pages in this BFCM 2021! With PageFly, you can create a high-converting store in the free plan without any coding skills! Publish high-quality pages, manage, and PageFly also integrates with many third-party apps.
The PageFly app is definitely a go-to! Start here.
Conclusion:
BFCM 2020  global sales by Shopify stores amounted to $5.1 billion, which is expected to surpass that!
Your customers are still latching on to the hope of shopping from the comfort of their homes. And it has never been any easier than this in the history of the internet! Let us together, crush BFCM 2021 with these never-again offers by Mason - everything at a discount for you to make it even easier for you to make the most this BFCM season!
Ecommerce automation is your way of standing out from this crowded market. And, with ModeMagic in your eCommerce stack, you can automate catalog listings and product labeling conveniently.
See the difference in your eCommerce store by trying out the top 3 Shopify apps for BFCM. Take your first step now.