To put it in GenZ lingo, the eCommerce industry is going to continue to be on fire in the next decade! With the rapid increase in online transactions, eCommerce brands, and the wild wave of entrepreneurship, one can hardly deny that the future of eCommerce is a spectacle to behold.
With all this, however, comes the neck-to-neck competition between the growing brands and the need to stay ahead in the race. Among the many critical aspects of success for a brand, having a comprehensive dashboard is imperative to understand and comprehend real-time insights and analytics. Precisely where ModeMagic comes into play.
💡
Easy playbooks + Powerful analytics = GROWTH 🚀
Not one but 35+ automated playbooks and unique features set ModeMagic apart, especially when it comes to providing qualitative data insights in addition to quantitative data. What a brand gets to see on its dashboard is an array of insights that go beyond just providing raw numbers. The eCommerce brands get to see why each campaign performs the way it does, all in real-time!
Well, it's not just us saying it. Our clients have leveraged the insights and achieved massive success in their conversion rates, bounce rates, and overall sales and growth.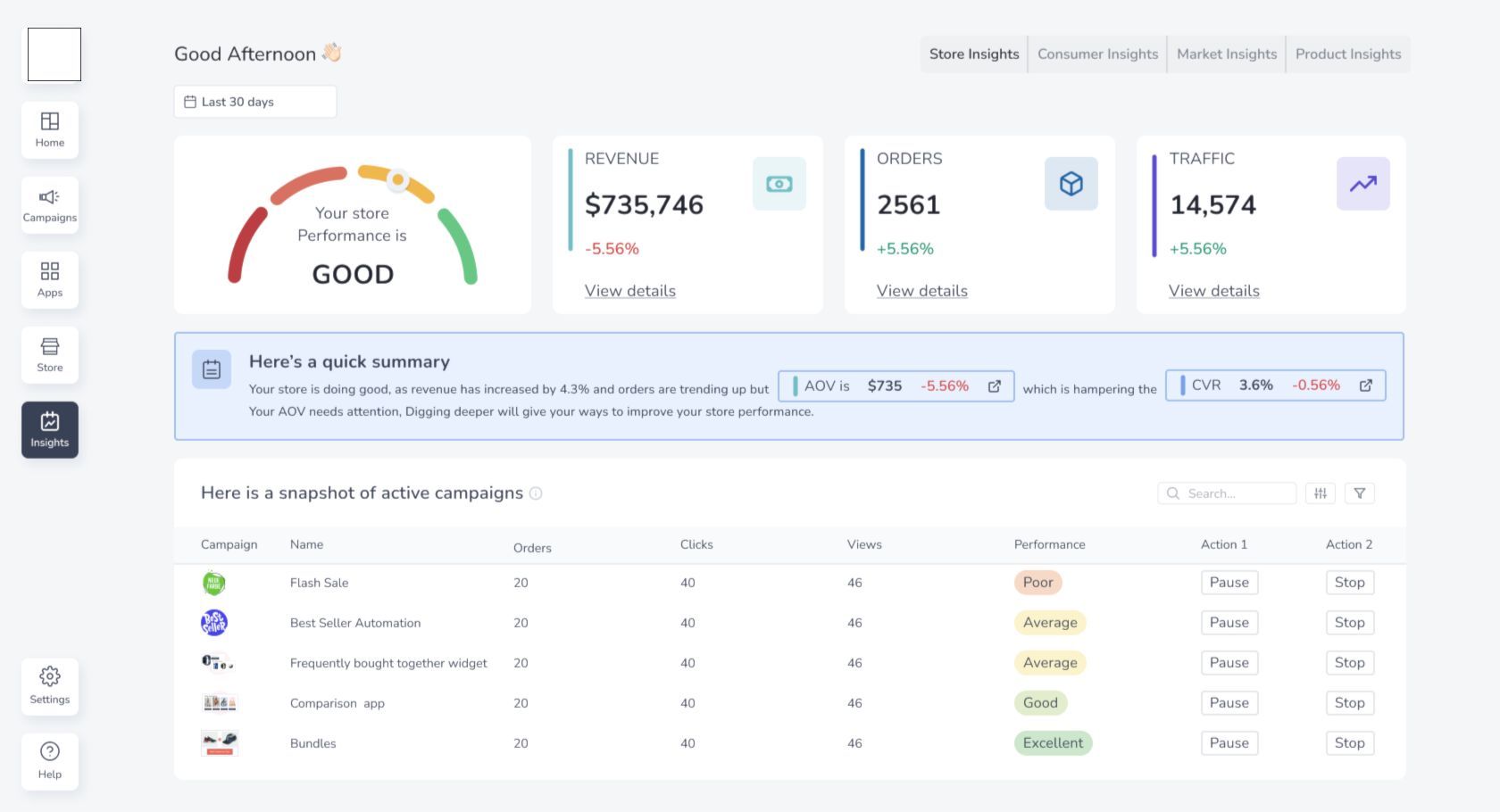 How did we help?
👀 The Insight: The dashboard helped identify that the checkout process was causing confusion and frustration for the customers, leading to low conversion rates.
🔥 ModeMagic Solution - Redesigned the checkout process and saw a 20% increase in conversion rates within a month.
👀 The Insight: Customer retention was a struggle.
🔥 ModeMagic Solution - One of the playbooks helped identify the need to offer more personalized recommendations to customers. The changes once implemented witnessed a 30% increase in customer retention within a month.
We also helped Bathla drive Triple Digit Lifts on their Core Product Segment!
When it comes to such a wildly growing industry, making informed decisions is what drives success. The ability to understand the "why" behind certain metrics is critical to any DTC brand, and that is what ModeMagic dashboard analytics appear to deliver successfully.
Now what sets Mode Magic apart from other Shopify apps is the easy-to-implement, customizable, and automated playbooks. These play books are designed to identify, track, and improve on specific KPIs while eliminating the need to create custom tools from scratch.
With the right tools, team, and guidance, we're glad to be able to build a growth engine that allows e-commerce brands to spend less time analyzing data and more time growing their business!