You finally made it! You have built your online store from scratch - and your products look amazing on the storefront display.
But what's next?
There are a zillion things that you need to do to run an online store. And most importantly, you got to deliver a stellar storefront experience that makes your customers keep coming back!
For the young direct-to-consumer brands, that's one of the biggest hurdles today - How to successfully run an online store and deliver a rich storefront experience?
🧐 Did you know?

32% of all customers would stop doing business with a brand they loved after one bad shopping experience.
And that's because today, it's relatively easier for shoppers to switch brands (literally in the blink of an eye) if a product is out-of-stock or let's say, prices do not match with the end-of-season sale offer. You do not just lose one single sale, but an entire stream of purchases that the shopper would make over a lifetime. These experiences would degrade the credibility of your online store.
Well, creating a rich storefront experience is not as easy as it seems.
So as we kickstart the new year- we recommend that it's high time for brands to look into some effective online storefront strategies to not just stand out in the crowd, but also - grow your revenues seamlessly.
Let's dive in!
Bundle to Convert
Shoppers love good deals! One of the smart ways that you can use to increase your average order value is by enabling bundled offers. This way, shoppers landing on the product page would choose to buy the bundle that is useful, increasing your sales effortlessly.
Now, when considering which of your products to bundle, analyze your shoppers data closely. If you notice Shopper A bought a bottle of shampoo from your store and later, purchased a hair spa kit that you sell, that shows a bundle combination for better conversions and higher AOV.
Check Out the Competition
If you do not have enough shopper data to start bundling your products, check out Amazon's product bundling tactics for the category you're dealing in. They do offer a bunch of ideas to get started with!

Use Bundles Aligned to Processes
Create bundles for products that can be used together in a step-by-step process. In short, give your shoppers a reason to buy more. For instance, check out how Mamaearth is nailing it when it comes to bundling its skincare or haircare products.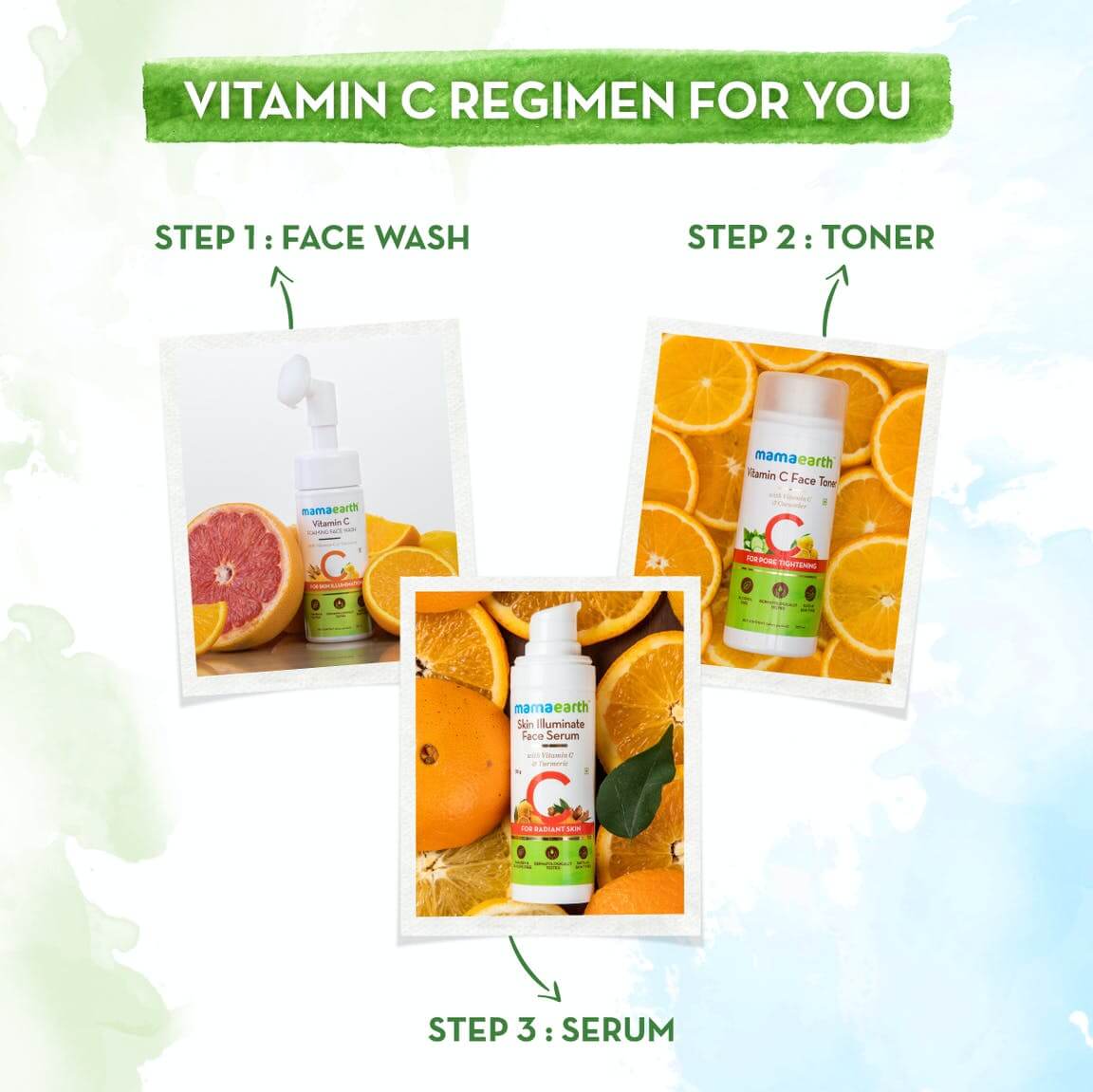 P.S. An effective approach here is to run A/B tests with your product bundles frequently. Every shopper is unique, so, increased testing can help you understand what upsell/cross-sell opportunities could work best.
Run Personalized Deals
Another strategy to delight your shoppers is by running personalized offers.
Such exclusive discounts and offers give your shoppers a sense of belonging and they tend to appreciate your brand's generosity even more.
In fact, according to a survey of more than 8000 consumers across the globe, 91% of consumers are more likely to shop with brands that provide relevant offers and recommendations.
Use Pop-ups
You can spice things up with interesting pop-up deals for targeted shoppers. Imagine the delight when a shopper, who visits your store for the first time, sees a pop-up that offers him/her 10% off their first pair.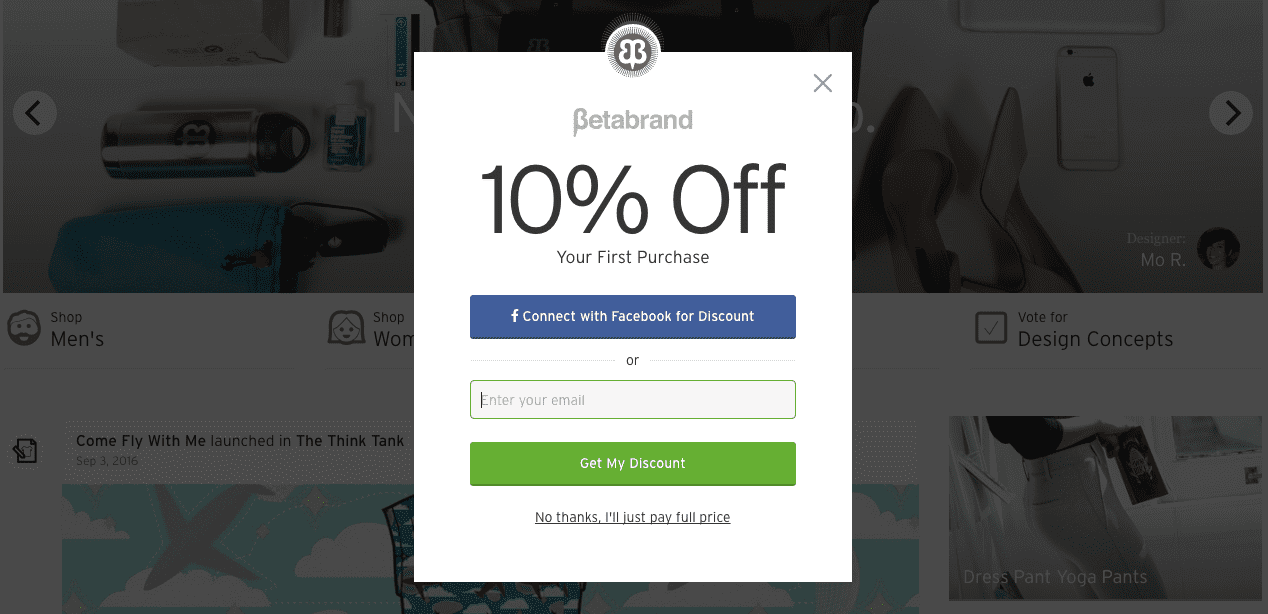 Use Limited-time Discounts
Give limited-time discounts on new arrivals or pre-orders for specific segments of people who are part of your loyalty program. This can help you sell some of your inventory before it even hits the store.

But just because personalized discounts and offers are popular, it doesn't mean they are always successful. Make sure your discounts don't end up damaging your brand in the long run. Know your smart goals and then run your deals accordingly.
Remind and Re-engage
The time and effort that goes into acquiring a customer is immense and losing the same can be a harsh blow for an online store owner. It's nothing to be ashamed of - but that doesn't mean you need to give up on them.
Win-back strategies to re-engage your shoppers are always a must-have. You can either have them as on-site strategies (like pop-up banners for abandoned carts) or off-site strategies (like cart reminder emails).
When done well, such win-back strategies reduce shopping cart drop-offs and increase conversions immensely.
Use Social proof
Employ social proof when you remind your shoppers about abandoned purchases. In other words, indicate the number of people who bought the product recently to instill trust.

Use Product Labels
Use product labels like "selling fast" or "Low in stock" to encourage shoppers to make the purchase immediately and not save it in cart for later.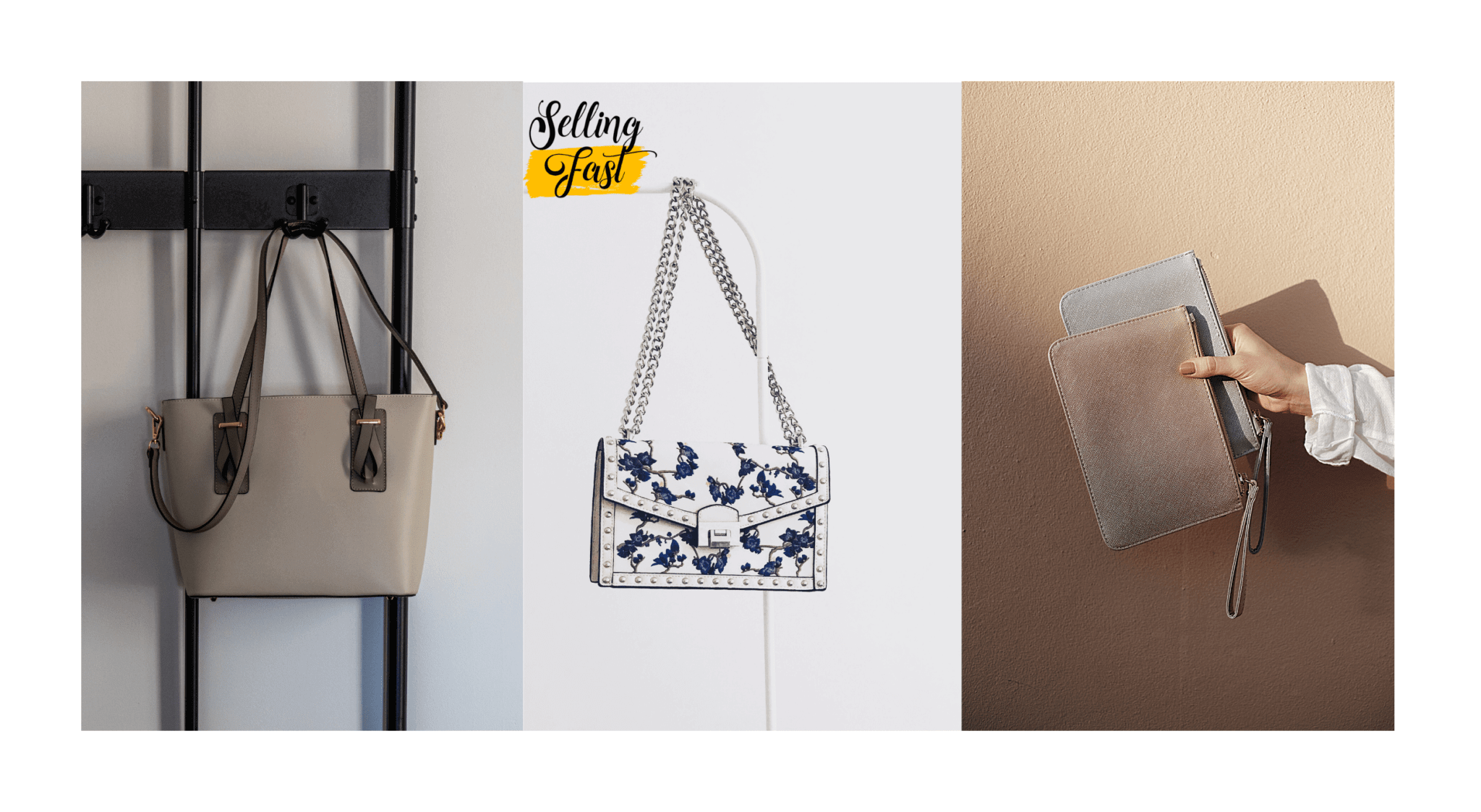 All in all, you have to be constantly looking for new ways to engage and re-engage with your tribe of shoppers to make sure you are running an ever-growing online business- and not just stop at "I went online, but not sure what to do next".
Customer experience holds immense importance in today's omnichannel online-first world. And by utilizing online storefront strategies like product bundling, running personalised deals, social proofing, etc. one can stay ahead in the game.
But there are challenges in implementing these strategies...
If you are a small direct-to-consumer brand which is just starting out, then running these operations end-to-end is a massive challenge. In fact, running a stellar online storefront means looking after a plethora of day-to-day tasks like-
Running new product launches every now and then,
Analyzing and creating product bundles that work best,
Updating prices on the back/front-end while running a clearance sale
Managing shopper reviews in product & checkout pages
Sending abandoned cart reminders to shoppers, and more.
Today, brands require an interplay of designers, developers, eCommerce managers, and content creators to design and deliver great storefront experiences to customers. And because most of these are done manually and repetitively, it requires a lot of time and resources to get changes executed. Therefore, it leads to many bottlenecks in scaling up your online storefront.
Fortunately, we have many no-code tools that emerged over the past couple of years. These powerful tools also allow you to update storefronts automatically and remotely. Mason is one of such tools that connect data, design, and channels on one platform. It reduces time and resources exponentially and automates the content flow across the channels.
Let's explain in-depth how these no-code platforms can help you to run an always-on store
How Online Storefront Strategies Can Be Managed Using No-code Tools..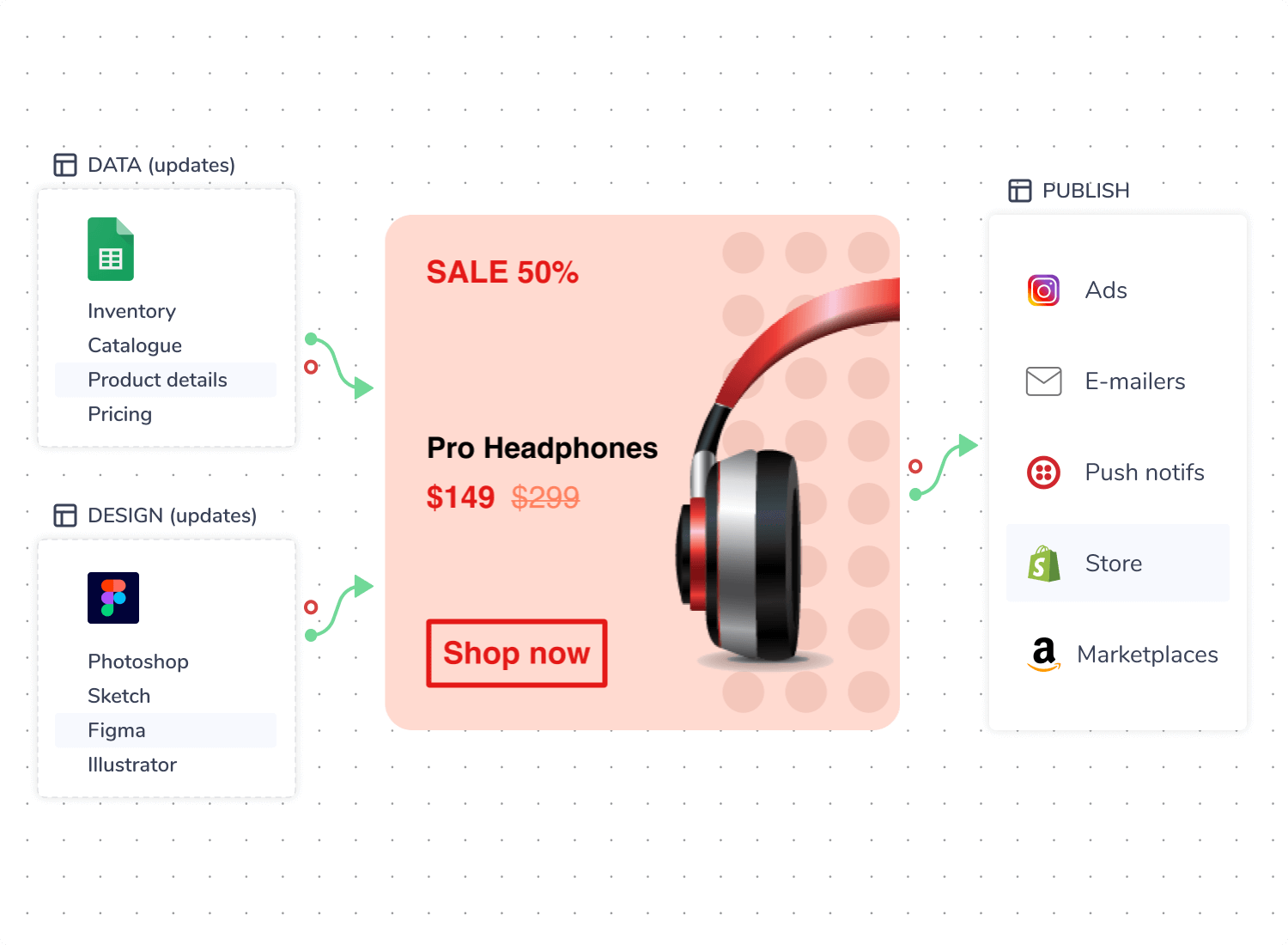 No-code tools for eCommerce have an advantage of unifying several key sale, launch and bundling strategies into one place and hence, ensure that your everyday operations run smoothly.
We can understand this through an example.
Let's say you run an online store for cosmetic products and have a weekend sale coming up - for which you need to have a collection of offer cards/banners on your online storefront.
The time and effort required to create + update these offer cards is huge!
That's where no-code tools like mason plays a key role. These tools dissolve the need for manual editing work. All that you need to do is create a master creative with the required design atoms- and in this case- the offer (x% off), the relevant product image and a tagline.
You can simply connect your data source - which is either your store catalog or a google sheet that links to each of the above. Once connected, you can set a watch on the offer/ product image/ tagline so that every time you or your ecommerce manager inputs a change in the backend (it could be on a Sunday or whenever), these no-code tools will keep updating the same on your storefront at all times.
P.S. You can also deliver a connected experience across any number of customer channels like your website, PWA, emailers, social media or even connected devices- wherever your customer-facing storefront is present.
So, now you do not have to worry about losing a sale just because a product was out-of-stock or the offers were not updated during the weekend ✨ These tools help you run and automate your storefronts end-to-end.
Today more than ever...
Customers value in-store experiences that are fresh, relevant and exciting.
From running a weekend offer to bundling the right products to managing abandoned cart reminders, you need to provide up-to-date content for the same on your storefront.
Because, a small bad experience can either make or break a huge sale.
Undoubtedly, no-code tools can help storeowners gain a competitive edge and even enable them to optimise most of these experiences. If you are keen on choosing the right no-code platform for implementing your online storefront strategies, make sure that -
It meets your budget for running day-to-day storefront tasks,
It helps with the ongoing business objectives and strategies,
It is flexible enough to enhance your storefront agility.