Conversions are a key consideration for store owners across categories. Without conversions it can be difficult to run an online store - especially since running a store involves a variety of costs.
On the other hand, a high bounce rate is something that store owners are constantly fighting. According to studies, bounce rates between 20 - 40% is considered fairly normal.
This is apart from the fact that store conversions on ecommerce websites are low in general!
So how do store owners and managers build a website that just converts? Read on to find out more:
Customer First. Always.
Without customers, there is no business. Every ecommerce company must be focused on its customers. Depending on your shoppers (audience), your website must include all capabilities that your audience expects.
Here are some of them:
Mobile-Friendly Website
Designing a mobile-friendly website is key in driving conversions. By now, it is a well-know fact that mobile browsing has far overtaken desktop browsing. Hence, ecommerce store owners must optimise their websites for a smooth experience on mobile as well.

Payment Options
Having multiple payment options is always an advantage. Customers choose their mode of payment based on convenience. In fact, limited payment options is one of the top reasons for cart abandonment.
In addition, stores must also communicate clearly on their web pages, about the payment options available. Doing so, helps you prevent website drop-offs, and improves conversions.
Website Security
Building trust on your online store is one way to ensure your customers make a purchase. One of the ways to communicate that to your shoppers is to show how your website maintains security - on payment pages, home pages (authenticity of products). You can do that using badges showing trust and security on your store website.
Meaningful Information
Your website is meant to inform, educate, and persuade your shoppers and help make their own decision of making a purchase.
Moreover, majority of customers say that the product detail page is the place where customers make up their mind whether they want to buy the product, or not.
Product Details Page [PDP]
Detailed product information helps customers make a better choice, more actively. Think about this - when buying online, customers will not be able to touch and feel, or try out, your products. In such a case, adding detailed product information helps convey information, and also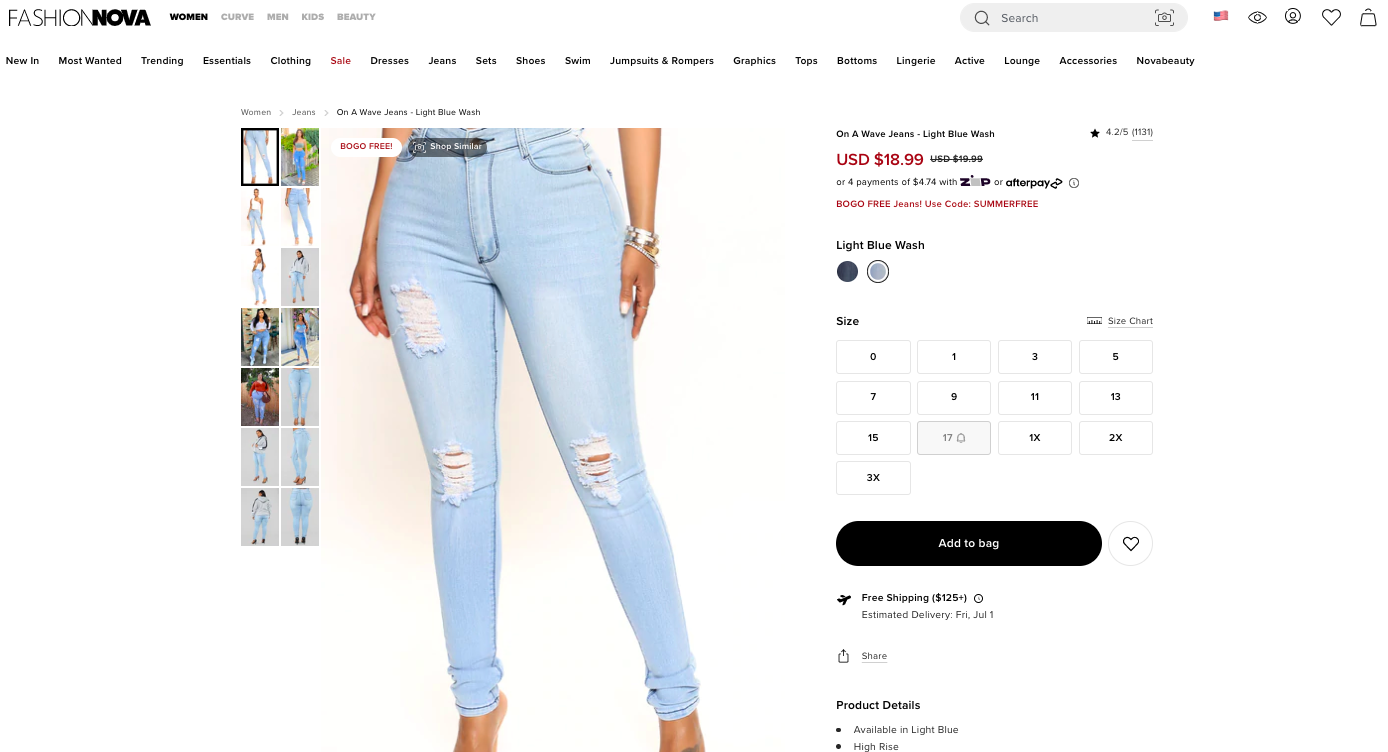 The FOMO Factor
It is always a good idea to 'bring urgency' to a purchase. With the right offers and messages, you can entice shoppers to make the purchase sooner.
According to Hotjar:
The average bounce rate for ecommerce websites is between 20 - 45%, across industries.
A 20% bounce rate is considered as exceptional.
When bounce rates are so high, you want to ensure your visitors convert quickly, and every time they visit your website. That is why, you have to make every single visit count.
A good offer right up front on your website, can help you convert higher, and reduce bounce rate.
You can include timers and free shipping (for a limited time) offers to push shoppers into making a purchase.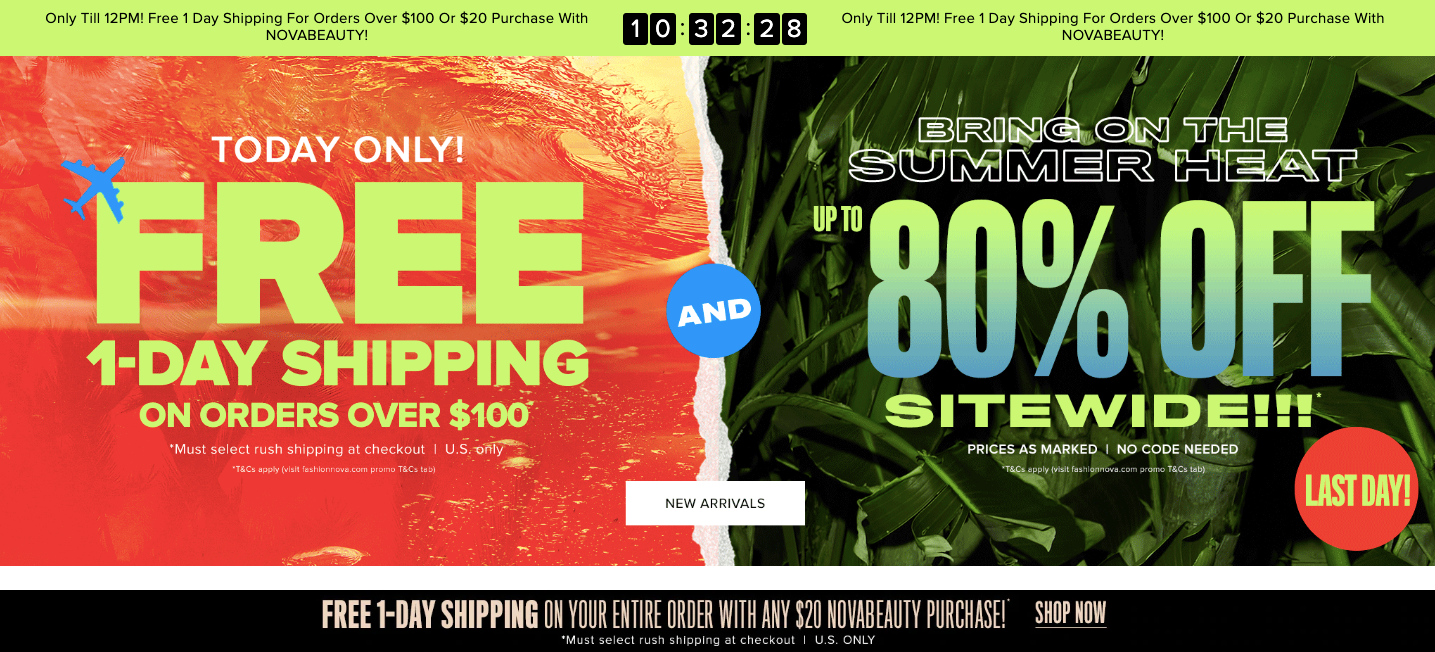 Stock in/out, Bestsellers
Notifying shoppers about low stock (or even out-of-stock) updates can help them stay engaged on the website. When you run out of stock, a message like - 'Back in stock soon', can encourage shoppers to revisit your website again soon.
When you do not communicate, you stand the risk of losing your shoppers forever.
Right Nudge at the Right Time
In the above example, FashionNova.com communicates about its latest offers right on the homepage. That way, they communicate value immediately, that encourages shoppers to make a purchase soon (and take advantage of the ongoing offers).
With ModeMagic, you can automate such messages across your website, so that shoppers are up-to-date about the offers on the website.

Product Reviews
Shoppers tend to trust we website when they see other shoppers that have made a purchase.
And that is natural. After all, would you pick a product that is 5 start (with 300+ reviews), or 4 star (with 2 reviews)? All said, reviews of any kind helps shoppers learn that the product is genuine and available, and has been already tried and tested in the market.
Get, Set, Track
Without tracking the performance of your ecommerce campaigns, it is difficult to understand what is working and what is not. CRO is a constant and iterative process. It requires small changes over a period of time to ensure that a website shows results.
To run effective ecommerce campaigns, you must constantly test and iterate your store campaigns. ModeMagic helps you track relevant metrics on your website to ensure you are constantly updated about how your campaigns are performing.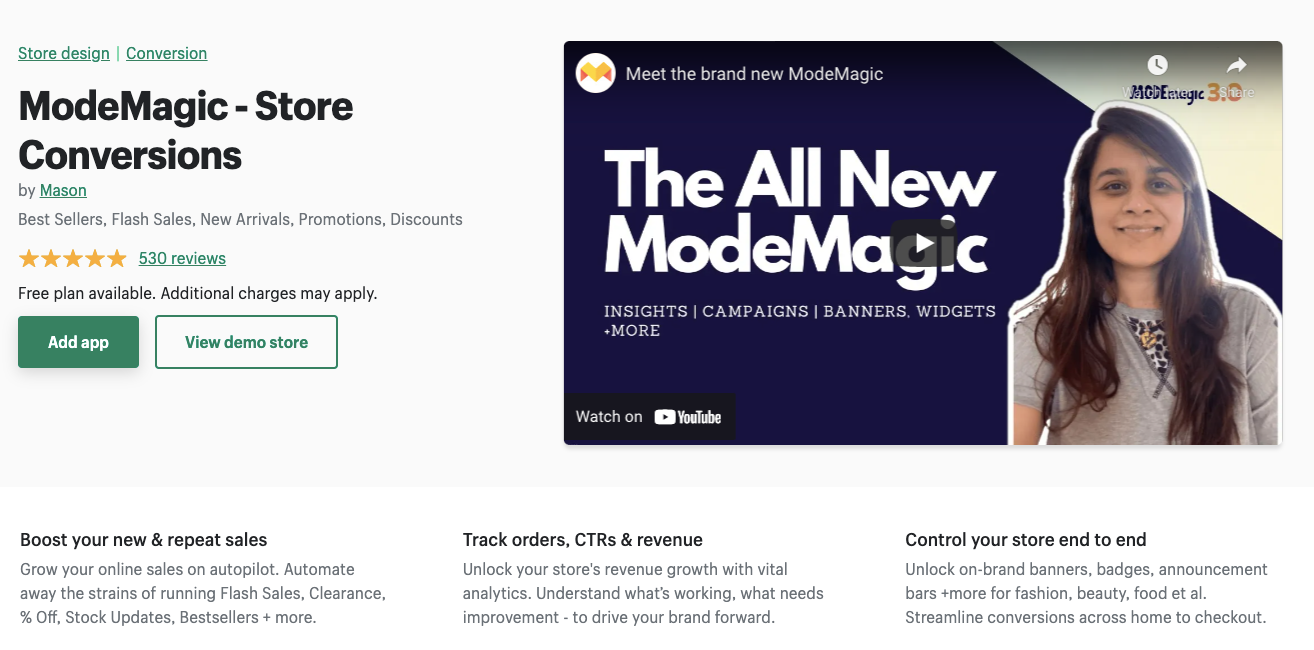 Finally…
Online stores need to constantly tweak their conversions strategies and experiment to understand what works and what does not. Running a store is a constant process and involves some amount of involvement.
However, with applications such as ModeMagic, you can automate your store conversions, run promotions, discounts and more.
Try out the latest version of ModeMagic 3.0 that can help you boost store conversions and bringing you the right ROI for your brand.