Optimizing store conversions was never more important.
Ecommerce companies face what is probably the most competitive times in the market today. From low conversions, to cart abandonment and other challenges - store owners are faced with numerous challenges. To add to these, running a store is neither cheap nor easy. Online stores have costs associated with them which are unavoidable (such as a content management system, domain name, hosting charges, maintenance etc)
Common Online Store Challenges
Low Conversions
Less than 2 out of 100 customers actually convert on your website.
High Costs
Total cost of ownership of an ecommerce store running is high. Several (visible and invisible) costs can add up and increase your cost of operations.
Intense Competition
Ecommerce sales are expected to grow to about $7.4 Trillion by 2025.
Needs Time and Effort
An online store requires you to be constantly engaged in running campaigns, managing inventory, attending to customers calls. This is a time consuming process that can be draining on resources and budget.
How Does Conversion Rate Optimization (CRO) Help?
CRO aims at optimizing your conversions. And conversions could be measured in any way - website purchases, email form submissions, inquiries etc.
When store owners are faced with conversions challenges, a strong CRO approach could go a long way.
How to Start Optimizing Your Storefront for Conversions
Define your Target Objective Clearly
As a business, it is important to set your goals right, before you build a CRO process. A goal that your competitor is chasing may not be suitable for you. However, identifying the same from the beginning is crucial. Here are some examples of goals you could have for your website, before setting your CRO process:
Improving the rate of conversions.
Growing the average order value.
Increasing number of store visitors.
Reducing bounce rate on your website.
The activities required for each of these goals would be different.
Narrow your Focus
Once you have set your target objective, you are in the right direction. The first principle thinking would be breaking it down to unit economics.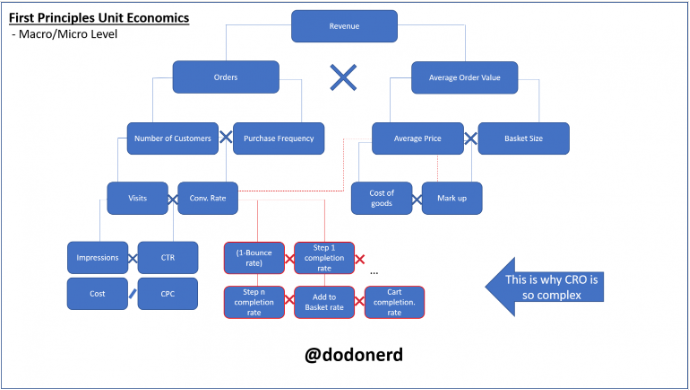 The above image (published in craptalks.com) shows how to drill down to the basics in CRO. Often, it comes down to simpler steps or objectives, that become easier to target and achieve (rather than setting lofty objectives for CRO).
Set the right processes in place and Build
Once you have broken down the overall objective into smaller tasks, they become easier to target.
For instance, in the above image, the objectives could be:
Bounce rate
Add to basket rate
Cart completion rate
With concrete goals set in place, you will be able to build more effective solutions for optimising your website conversions.
The CRO Funnel
A buyer on your website goes through different stages - from product/solution discovery to making a purchase and post purchase experience. All of these stages together constitute the CRO funnel.
An ideal website (one that converts effectively, of course!) needs to continuously experiment and optimize their store experience. Optimizing your CRO funnel not just helps you improve your earnings, but also gives your shoppers an improved customer experience. After all, small tweaks are known to be the best way to optimize.
All said, a disclaimer is called for - like everything,
CRO is a process - it does not guarantee overnight results.
For most ecommerce store owners, getting results comes after making several small tweaks on their website.
How Does a CRO Funnel Work?
The CRO funnel can be broken down into 6 main stages:
1. Awareness
To make your shoppers aware about your offering, you would need to build top of the funnel content and activities around your product (for instance - for a footwear brand).
The objective? To attract as many (relevant) shoppers and website visitors as you can. Only when you increase interest, will your shoppers be more likely to make a purchase. Some of the ways to increase awareness would be:
Blogs
Social media posts
Search results and search rankings
2. Targeting
Ensure that you have the right audience in mind when designing campaigns. If you a sportswear (shoes) company, your target audience might be folks who lead and active lifestyle or are engaged in some sport.
3. Interest
Once you have pulled in your shoppers through targeting campaigns and blogs, you need to ensure they stick around. This is where your ecommerce website and content is key.
You need to ensure your website is updated at all times, and conveys all the right information to your shoppers.
In the Interest phase, you also want to build a relationship with your shoppers. Some of the key considerations here should be:
Banners (displaying information on sale or new arrivals)
Catchy and convincing copy
Carousel Images
4. Desire
After building interest, the key objective is to entice shoppers to make a purchase.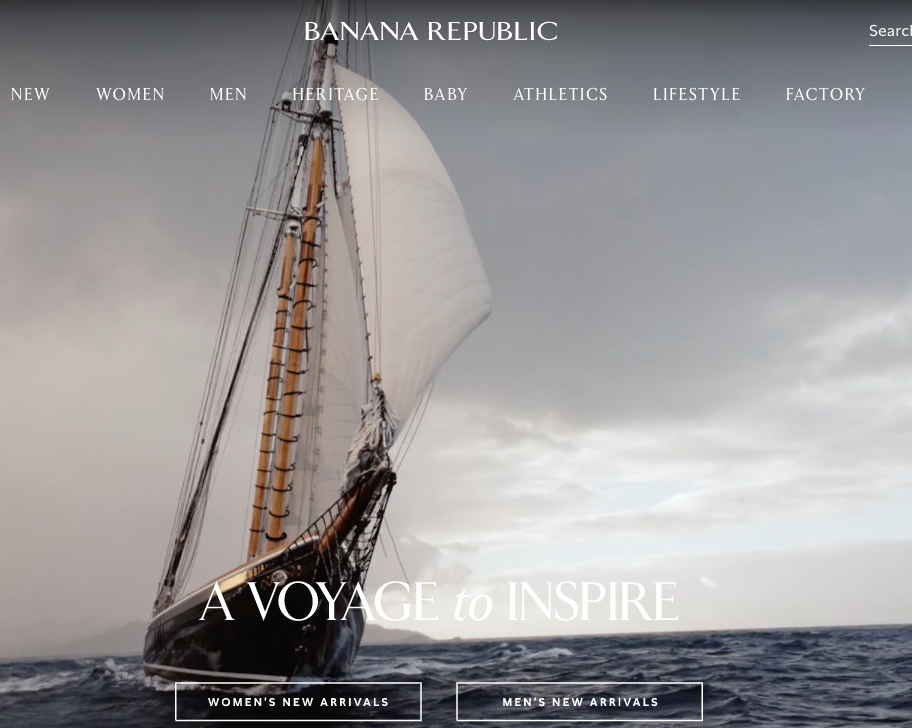 Some of the ways to attract shoppers attention is through
Videos
Attractive offers and discounts
Descriptive images of products
It is important to remember, this is the stage when shoppers are considering a 'buy-in' into your brand.
Another way to enable this process is by convincing them about their choice. How do you that? Customer reviews. Reviews help a shopper learn about people and their experience with the brand.
In an online scenario, when trust is generally low (as compared to in-store), building trust is key.
Application such as ModeMagic help you build more trust on your store, that help you improve conversions.
In fact, many shoppers would abandon their purchase halfway through, if they do not trust the website or business.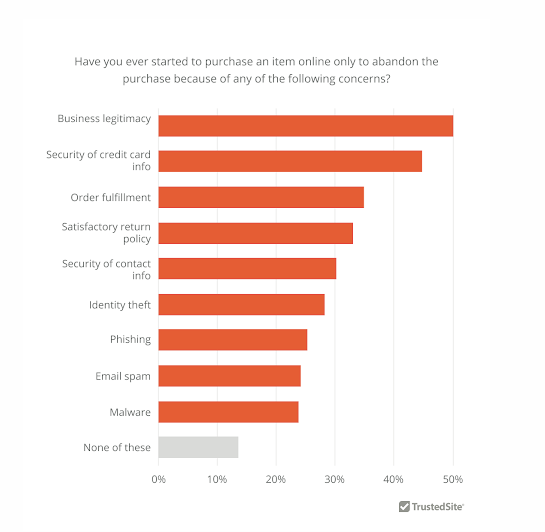 5. Conversion
Once you have engaged with customers, shared product information and built trust - you are ready for them to convert. But not just yet!
As a store owner, you need to ensure your checkout flow is completely smooth and has minimum friction. Several factors cause friction in the buying process. For instance:
Need to create a new account
Too many form fields to fill
Inadequate information on the checkout pages
Lack of adequate security on checkout
Absence of trust badges
When faced with these issues, shoppers are most likely to drop off your funnel. And it would be a shame to lose them after they have made it this far on your website! Cart abandonment is a worry for most ecommerce store owners, but can be dealt with. Read our blog to find out how.
6. Re-Engagement
Only a 5% increase in customer retention can lead to an increase of 25-95% in profits.
To be able to retain customers, you must constantly engage with them. This is possible only when you have gathered the right insights of your shoppers (CTAs, purchases and other details).
ModeMagic helps you gain detailed insights on your shoppers' activity on your store. That way you understand what is working and what is not. Based on this information, you can modify your campaigns.
Conclusion
CRO is a journey - not a one time process that can be completed in a few days.
As a store owner, you must aim at using CRO to constantly monitor and optimize what is working and what is not. With challenges of low conversions and cart abandonment, CRO is a key way to improve your website conversions.
ModeMagic helps you in your CRO process by helping you boost online store conversions and tracking how your store performed. Try out ModeMagic today for your Shopify store.