The holiday season is quickly approaching and it's time to start thinking about how your business will make the most of it.
Black Friday Cyber Monday (BFCM) is the perfect time to offer discounts, and with ModeMagic, you can easily create and manage your sale in one easy-to-use app. In this blog post, we'll talk about the benefits of running a discount sale during BFCM and show you how ModeMagic can get you started in 7 simple steps.
So, if you're a merchant looking to make a splash this BFCM, keep reading to learn how ModeMagic can help you run a successful discount sale.
💡
Convert
website visitors to paying customers this Black Friday Cyber Monday (BCFM) with
ModeMagic,
the
conversion
OS for your Shopify store.
Benefits of Running a BFCM Discount Sale
Discount sales are not only great for your customers, they're also fantastic for your bottom line.
More specifically, discount sales:
Attract New Business
Discounts are a great way to generate interest in your products or services.
Build Customer Loyalty
Offering discounts to existing customers shows you appreciate their business and keeps them coming back to your store.
Clear Out Old Inventory
A discount sale is a perfect way to clear out old stock and make room for new items, especially during the holiday season.
Boost Sales
A discount typically means more sales and revenue, especially during busy shopping times like BFCM.
Create Urgency
Time-limited discounts create a sense of urgency, encouraging shoppers to make a purchase sooner rather than later.
So, How Do I Run a Discount Sale with ModeMagic?
We've prepared a short video and step-by-step guide to help you out. 🚀
Step-by-Step Guide on How To Run A BFCM Discount Sale
Step 0: Navigate to the ModeMagic Dashboard
👆 This is your dashboard. You can find it by logging into your Shopify store and clicking Apps in the left-hand navigation.
If you already have ModeMagic installed, select it from the pre-populated list of apps. If you don't have ModeMagic installed, you can download it from the Shopify App Store (Bonus: Try it for free on your first 50 orders! 🎉)
Step 1️: Navigate to Campaigns
Look to the left, and select Discount Sale from Campaigns.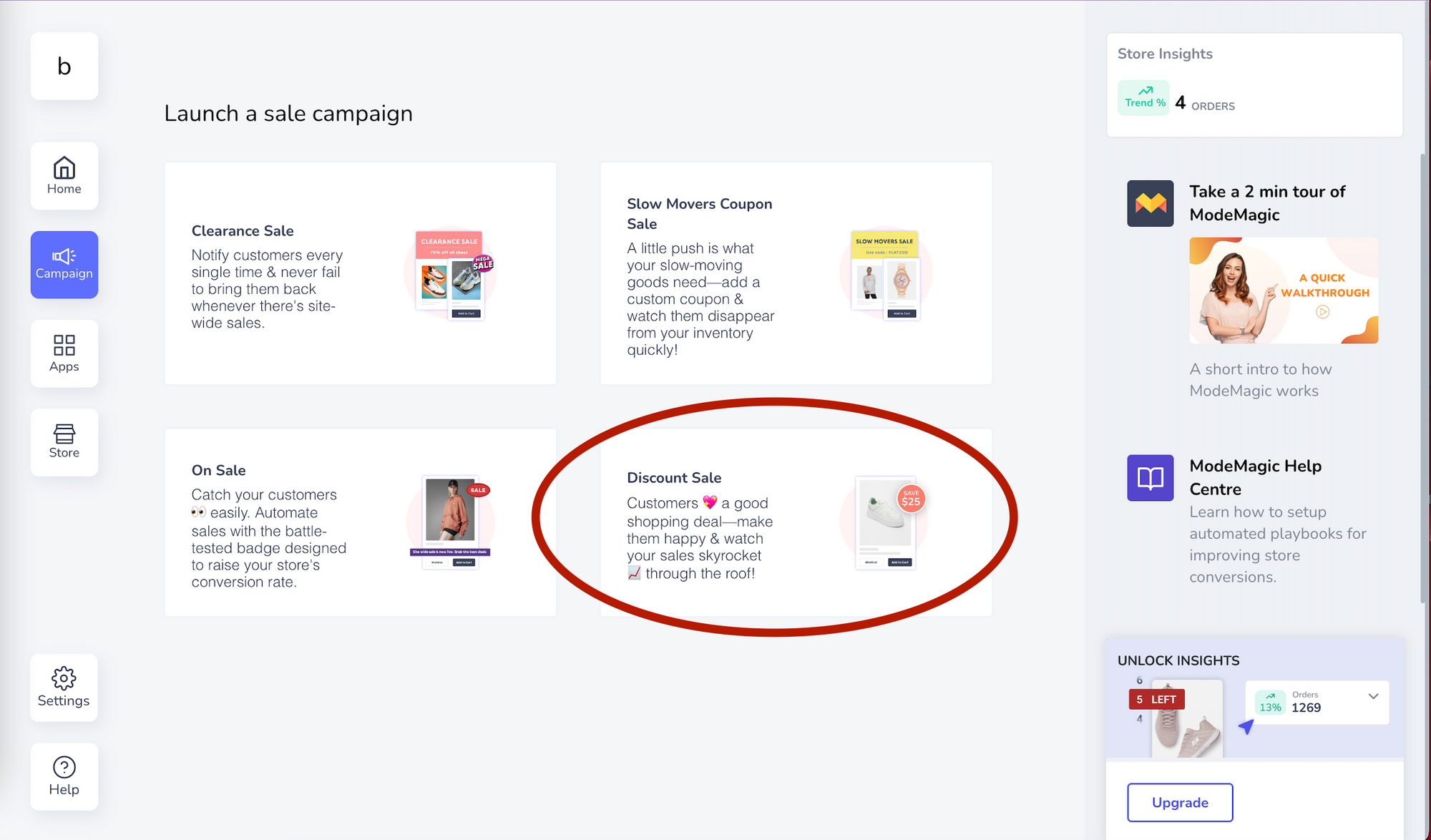 Step 2️: Access the Discount Sale playbook
From the Campaign menu, you'll be automatically directed to the Discount Sale playbook. This is where you'll set up the design, timing, and positioning of your discount sale campaign.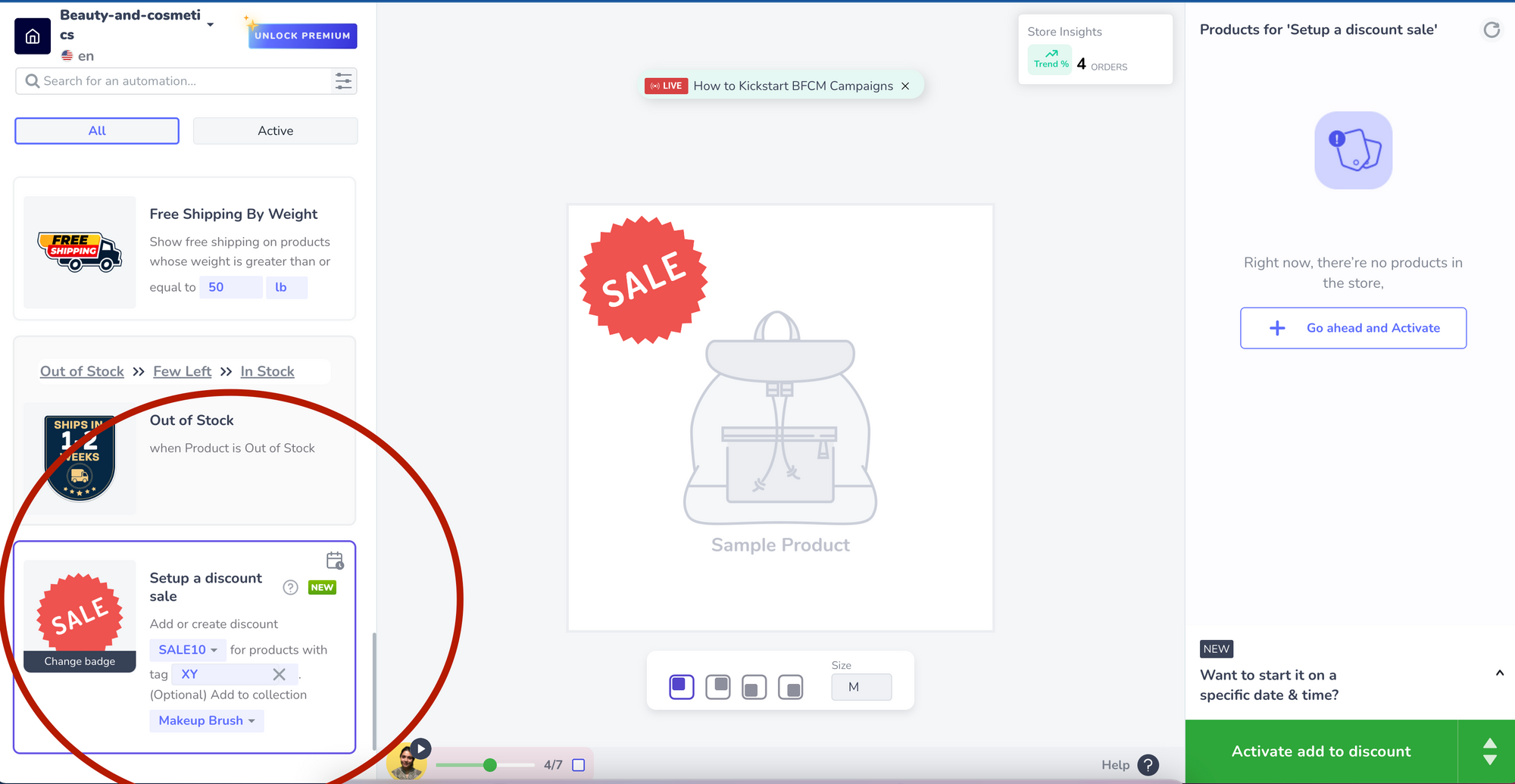 Step 3️: Create a discount coupon
Next, click on the discount dropdown to create a discount coupon on your store products.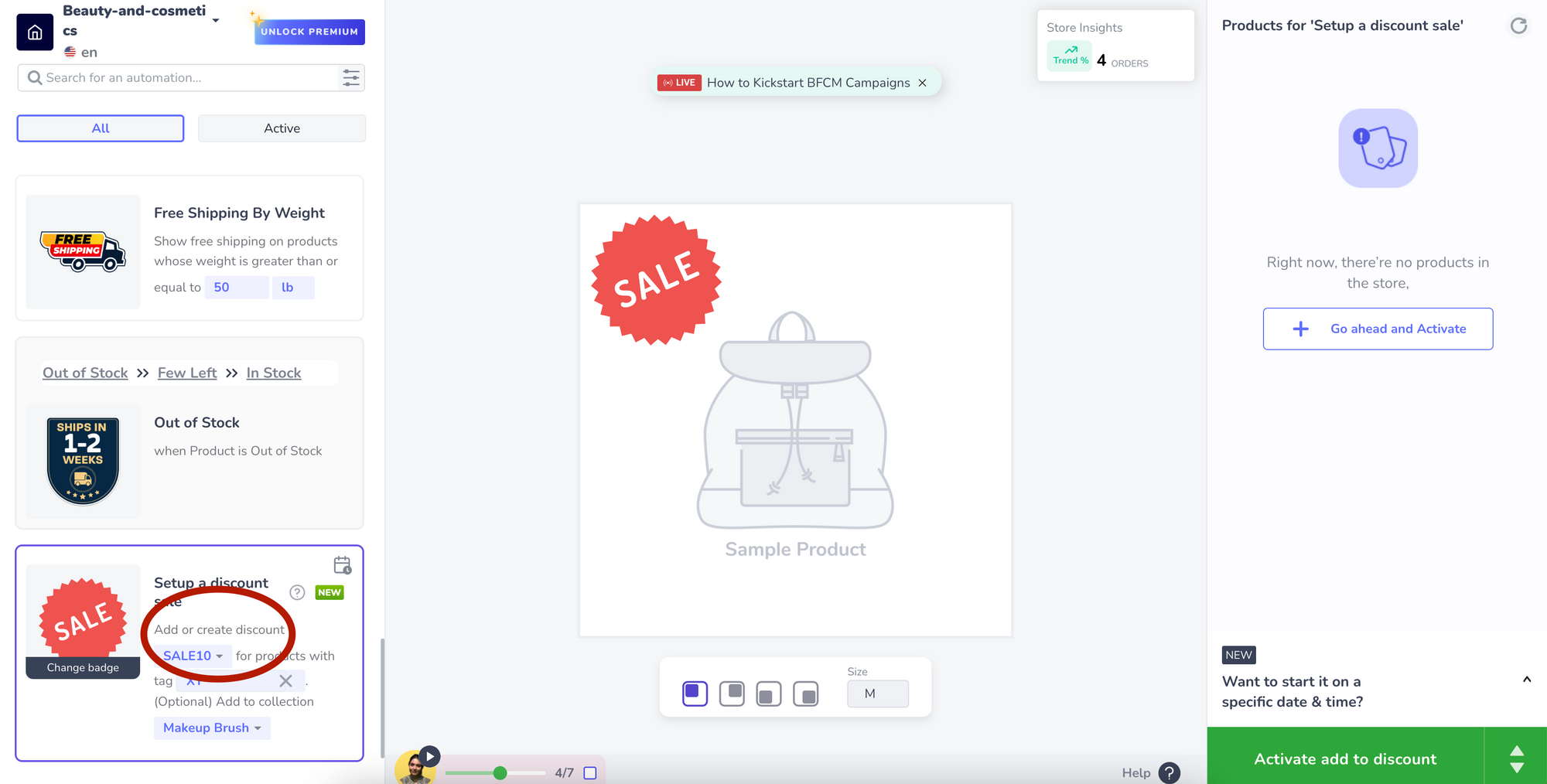 Step 4️: Add an inventory tag
Insert inventory tag to define which category, collection, or group of products the discount sale coupon will apply.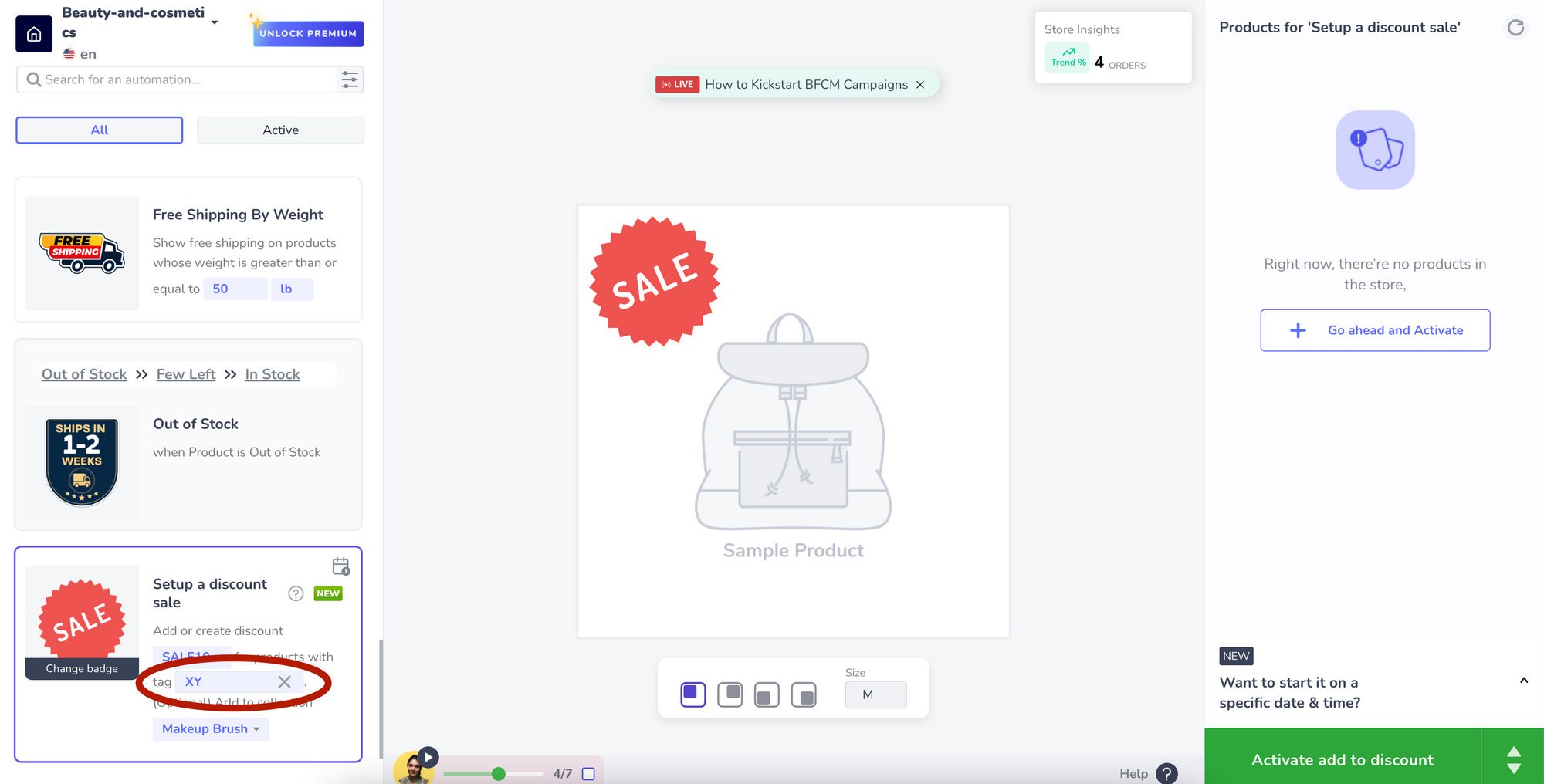 Optional step: Add a collection tag
If you've previously categorized your inventory, insert the collection tag to define which category or group of products the discount sale coupon applies to.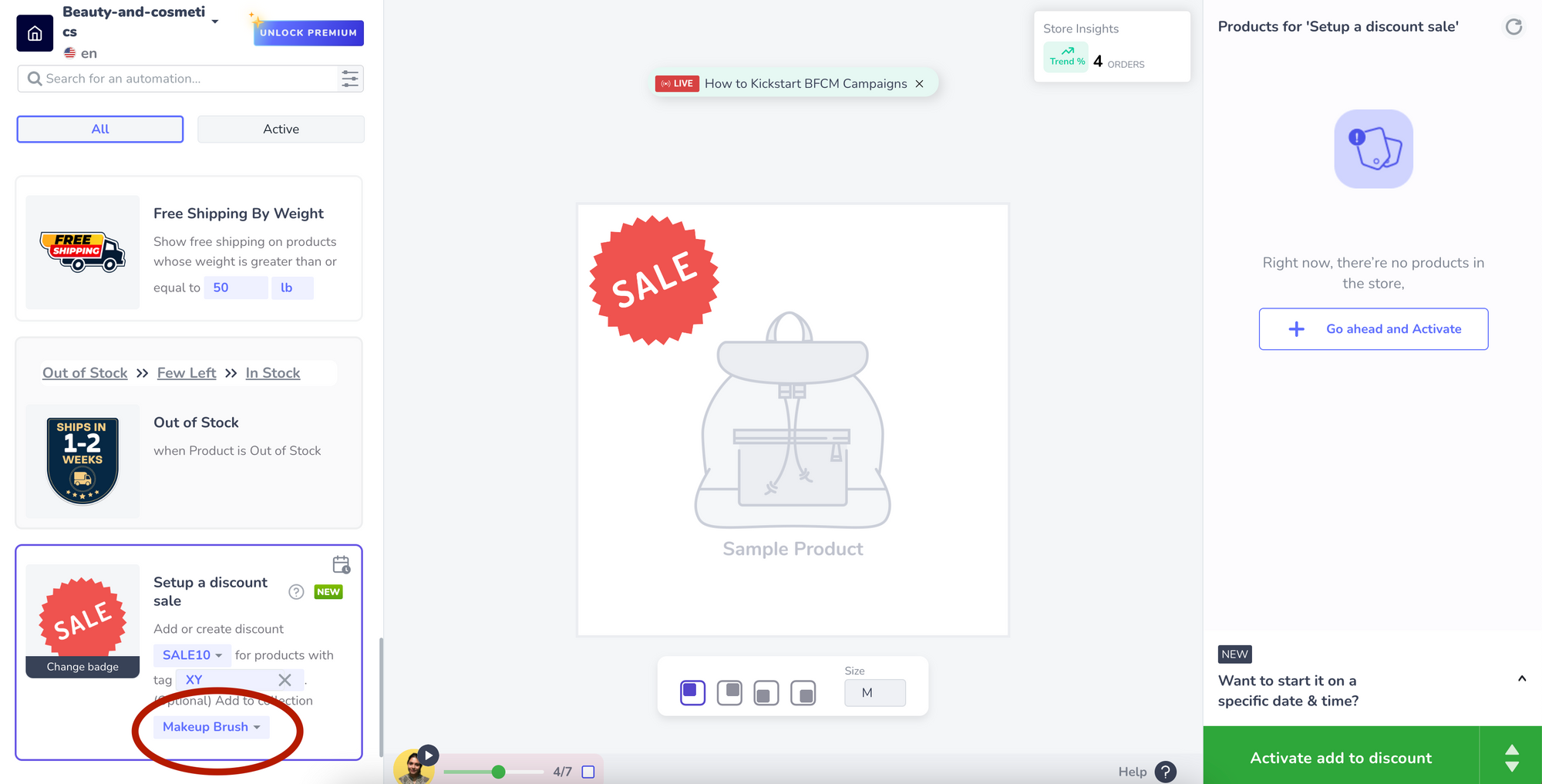 Step 5: Create a sale badge
Next, click on the badge button to add a discount coupon badge to your selected store products.
Select from the many discount badges and customize them based on your overall store design. You can update your badge design or choose from the recommended designs to use on discounted store items.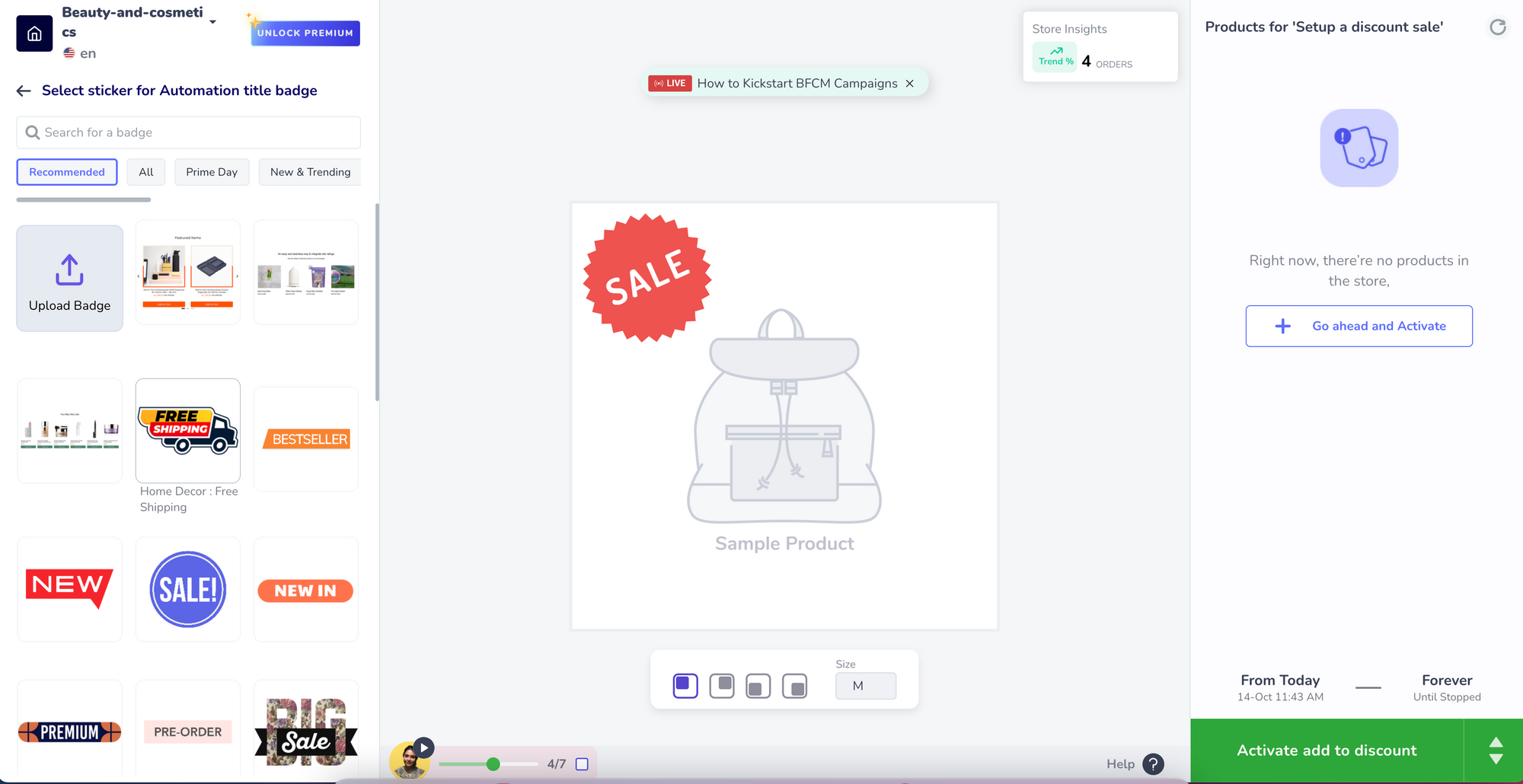 Step 6: Schedule your discount sale
Once you're done customizing badges, click on the scheduler icon, and pick a start & end date for your discount sale campaign.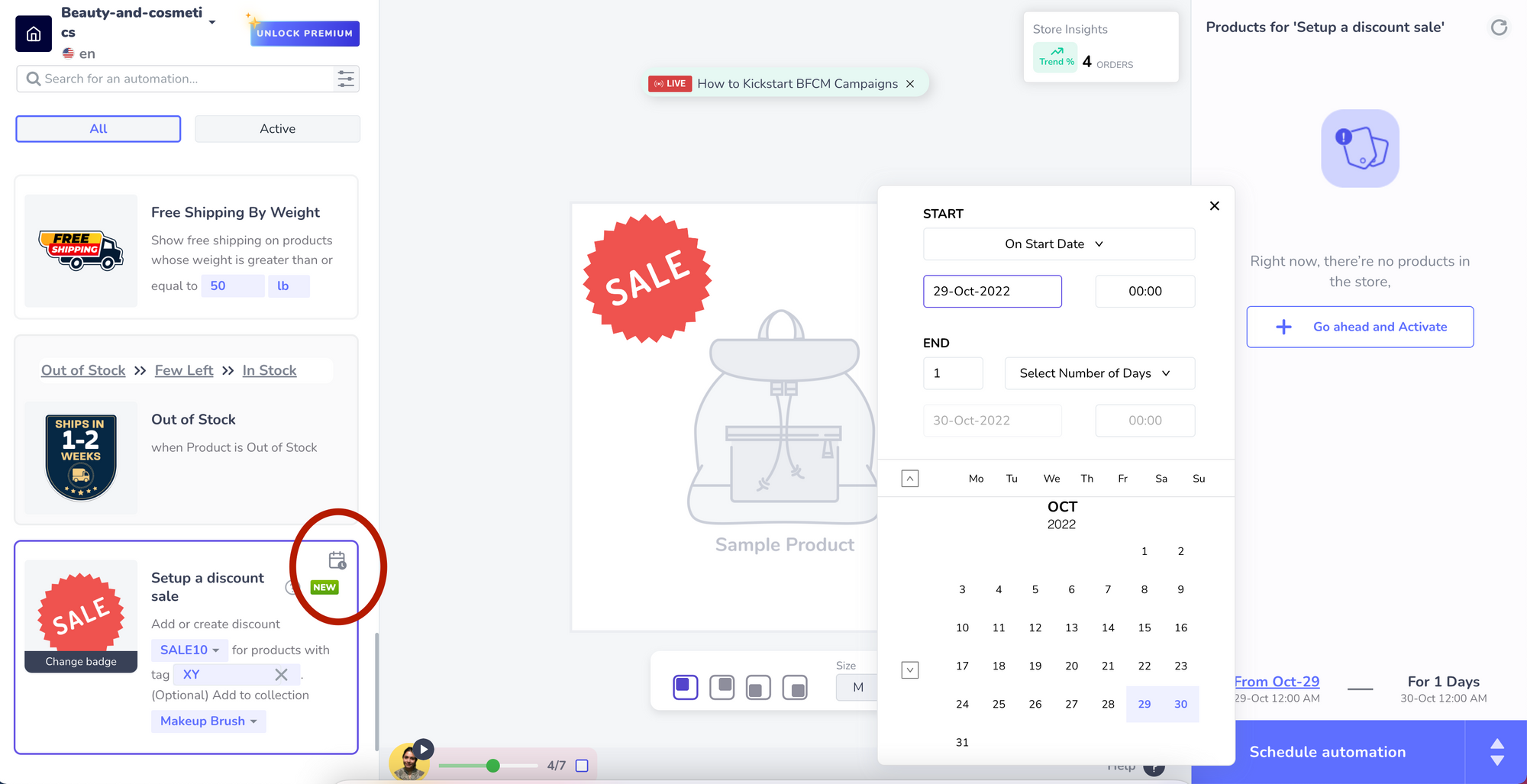 Step 7: Activate your campaign
Once you've set your dates, click the "Activate add to discount" to publish the discount sale to your Shopify store. Congrats—you're all set for BCFM!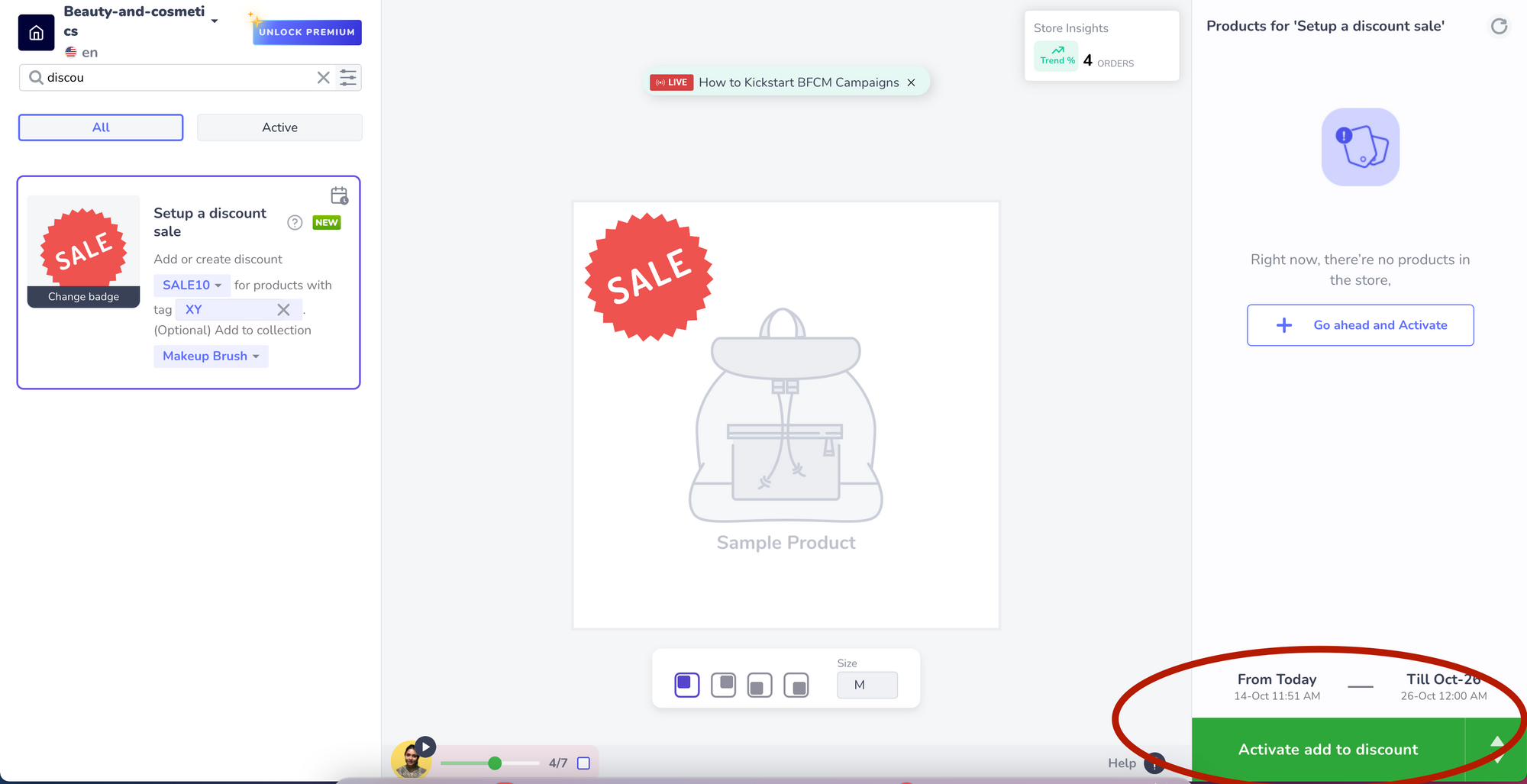 In Conclusion
Running a discount sale during BFCM can be a great way to attract new customers, keep existing ones coming back, and increase your sales revenue. By using a platform like ModeMagic, setting up and managing your sale can be a breeze.
Don't miss out on the opportunity to shine bright this holiday season and differentiate yourself from the competition. Offering time-limited discounts is a tried-and-true tactic to create a sense of urgency and encourage shoppers to take action.
So, whether you're an established merchant or just starting out, consider running a discount sale. With a little creativity and the right tools, you'll be able to spread some cheer to your customers while also boosting your bottom line.
Happy selling!